Vlastimil Masek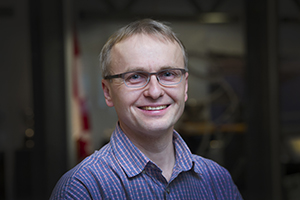 Dipl.Ing. (University of West Bohemia), M.Sc., PhD (University of Electro-Communications, Tokyo), P.Eng.
Contact Information
Ph: 709-864-8969
Em: masek[at]mun.ca
Office: CSF3126
Personal Profile
Dr. Masek attended the University of Electro-Communications in Tokyo after completing a five year Dipl. Ing. degree in mechanical engineering at the University of West Bohemia in Czech Republic, formerly Czechoslovakia. In Japan, Dr. Masek completed MSc. and PhD degrees in mechatronics and control engineering with a focus on airborne ultrasonic sensing. Subsequently, after one year of postdoctoral fellowship at Satellite Venture Business Laboratory in Tokyo, he moved to Sweden for a three-year research scientist position in ABB Corporate Research.
In January 2003, Dr. Masek joined the Department of Electrical and Computer Engineering in Memorial University of Newfoundland. His teaching activities cover areas of industrial control and instrumentation, such as signal conditioning, sensors, and automatic control. He is also actively involved in the Oil and Gas Development Group by teaching supervisory control and data acquisition, remote sensing and oil and gas process control.
Dr. Masek is an associate professor and licensed professional engineer having research interest in areas such as multiphase flow sensing and in-flow phase separation, oil spill remediation, wide area ocean current sensing using transit time acoustics, as well as seabed marine instrumentation networks, an ongoing project with a commercial spin-off to Seaformatics Systems Inc.