Stephen Butt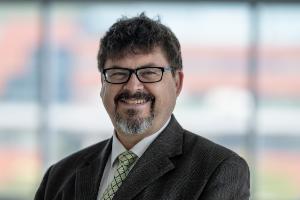 B.Eng., M.Sc. (Memorial), PhD (Queen's), P.Eng.
Professor
Cross Appointment, Department of Earth Sciences
Contact Information
Ph: 709-864-8955
Em: sdbutt[at]mun.ca
Office: EN2110D
Expertise
Petroleum Engineering
Mining Engineering
Drilling and Geomechanics
Research Interests
Technology development, optimization and commercialization; drilling penetration mechanisms, drill string dynamics and well control; near well bore geomechanics and stability; salt rheology and experimental characterization; mining ground control and subsidence.
Drilling Technology Laboratory
Personal Profile
Prof. Stephen Butt is a Geological Engineer by background and has interests in the development of natural resources in Canada through teaching, research and industry collaboration. He has been a faculty member at Memorial University since 2006, and previously at Dalhousie University from 1996 to 2006, focused on technology development and optimization, reducing environmental foot print, and the training of highly qualified personnel and industry professionals. He has held research funding of $4.5M CAD as Principal Investigator and another $13.5M CAD as Co-Investigator, supervised ~85 Highly Qualified Personnel (HQP), published ~100 articles and proceedings, and holds one patent. He has been Mining Program Chair at Dalhousie University and Associate Dean (Graduate) and Process Engineering Chair at Memorial, and is an Associate Mining Engineer with MineTech International in Halifax, NS.
Honours/Awards/Accreditation
• 2016 SPE Canada Drilling Engineering Award
• 2015 MUN Research Highlights Report – King of the Drill
• 2014 Administrative Service Award, Faculty of Engineering and Applied Science