Sima Alidokht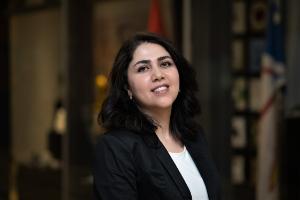 Ph.D(McGill University), Post-Doc (McGill University), Research Associate (McGill University)
Assistant Professor
Contact Information
Ph: 709-864-4764
Em: saalidokht@mun.ca
Office: EN3014
Expertise
Materials and Surface Engineering
Coating Tribology
Welding Metallurgy and Additive Manufacturing
Multi-Scale Materials Characterization
Thermal Spray Processes
Personal Profile
I received my Ph.D. in Materials Engineering, focusing on cold spray and tribology of composite coatings, from McGill University, Montreal, in 2018. The following disciplines are my primary research interests: Design, development and testing of tribo-corrosion resistant coatings, Multi-principal element alloys processing and characterizations, Smart materials-based protective coatings, Erosion-resistant coatings for space applications, and Duplex surface engineering.
In 2018, I joined the Department of Materials Engineering at McGill University, Montreal as a research associate. During my research associate appointment, my research work focused on the repair of Titanium components using cold spray additive manufacturing, multi-layered coatings based on thermal spray processes and physical vapour depositions, thermally sprayed coatings for high-temperature components in aeroengines, and micro-mechanical testing of coatings/thin films and third-bodies.
Recently, before joining Memorial University of Newfoundland, I worked as a sessional lecturer at McGill University and instructed and delivered MIME262, Materials Properties in Electrical Engineering. Furthermore, I served as a safety officer in Nano-Mechanical and Tribology Lab at McGill University. In total, I have more than 65 journal and conference publications in the research area of Surface Engineering and Coatings.
Honours/Awards/Accreditation
Horace Young Fellowship Award (2017 & 2018), McGill University.
NSERC–AeroCREATE (2018-2019), McGill Institute for Aerospace Engineering.
McGill Institute for Aerospace Engineering (MIAE) Award (2017), McGill University.
Graduate Excellence Fellowships (2014-2016), McGill University.
GREAT Award (2016), Department of Mining and Materials Engineering, McGill University.
Hatch Fellowship in Engineering (2014-2016), McGill University.
Research Highlights
Alidokht, S.A., et all. Microstructure and mechanical properties of Tribaloy coatings deposited by high-velocity oxygen fuel (2022). Journal of Materials Science.
Alidokht, S. A., Yue, S., Chromik, R. R. Effect of WC morphology on dry sliding wear behaviour of cold-sprayed Ni-WC composite coatings (2019). Surface and Coatings Technology, 357,849-863.
Alidokht, S. A., Munagala, V. N. V., Chromik, R. R. (2017). Role of third bodies in friction and wear of cold sprayed Ti and Ti–TiC composite coatings. Tribology Letters, 65(3), 114-129.
Open Positions
Currently, I am seeking motivated graduate students interested in working on Surface Engineering and Protective Coatings. We encourage interested students to contact us for further information.
Profiles and Links
Scholar: https://scholar.google.com/citations?user=RiEkbqEAAAAJ&hl=en
LinkedIn: https://www.linkedin.com/in/simaalidokht