Ramachandran (Venky) Venkatesan
Ramachandran (Venky) Venkatesan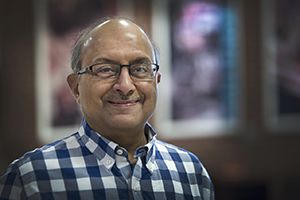 B.Eng. (Hons.) (Madurai), M.Sc., PhD (New Brunswick), P.Eng.
Honorary Research Professor
Contact Information
Ph:
709-864-7962
Em:
venky[at]mun.ca
Office:
EN4015
Expertise
Computer Architecture
Digital Hardware
Wireless and Optical Communications
Research Interests
Parallel processing architectures and applications; underwater communications; error control codes; digital design; sensor networks
Personal Profile
After obtaining a bachelor's degree in Electrical Engineering, I worked at the Welding Research Institute, Bharat Heavy Electricals Ltd., India, for eight years before embarking on my doctoral studies in computer engineering.
Joining the Faculty of Engineering and Applied Science at Memorial University of Newfoundland in 1987 as an Assistant Professor, I have been involved in the development of the undergraduate as well as graduate level programs in computer engineering. Between 1999 and 2012, I have served in various administrative positions in the Faculty including Chair of Electrical and Computer Engineering, Associate Dean of Graduate Studies and Research, Interim Associate Dean of Undergraduate Studies, and Acting Dean. Between March 2011 and July 2012, I served as the Dean Pro Tempore and led the Faculty in the development of an 8-year growth plan that would double the faculty strength and contributions.

I teach courses at different levels in digital systems, computer architecture, information theory and coding, and circuits. I have had the pleasure to supervise more than 60 graduate students and post-doctoral fellows. I have also led the proposal of several major research projects that have attracted significant funding from the private industry and government agencies.