Octavia A. Dobre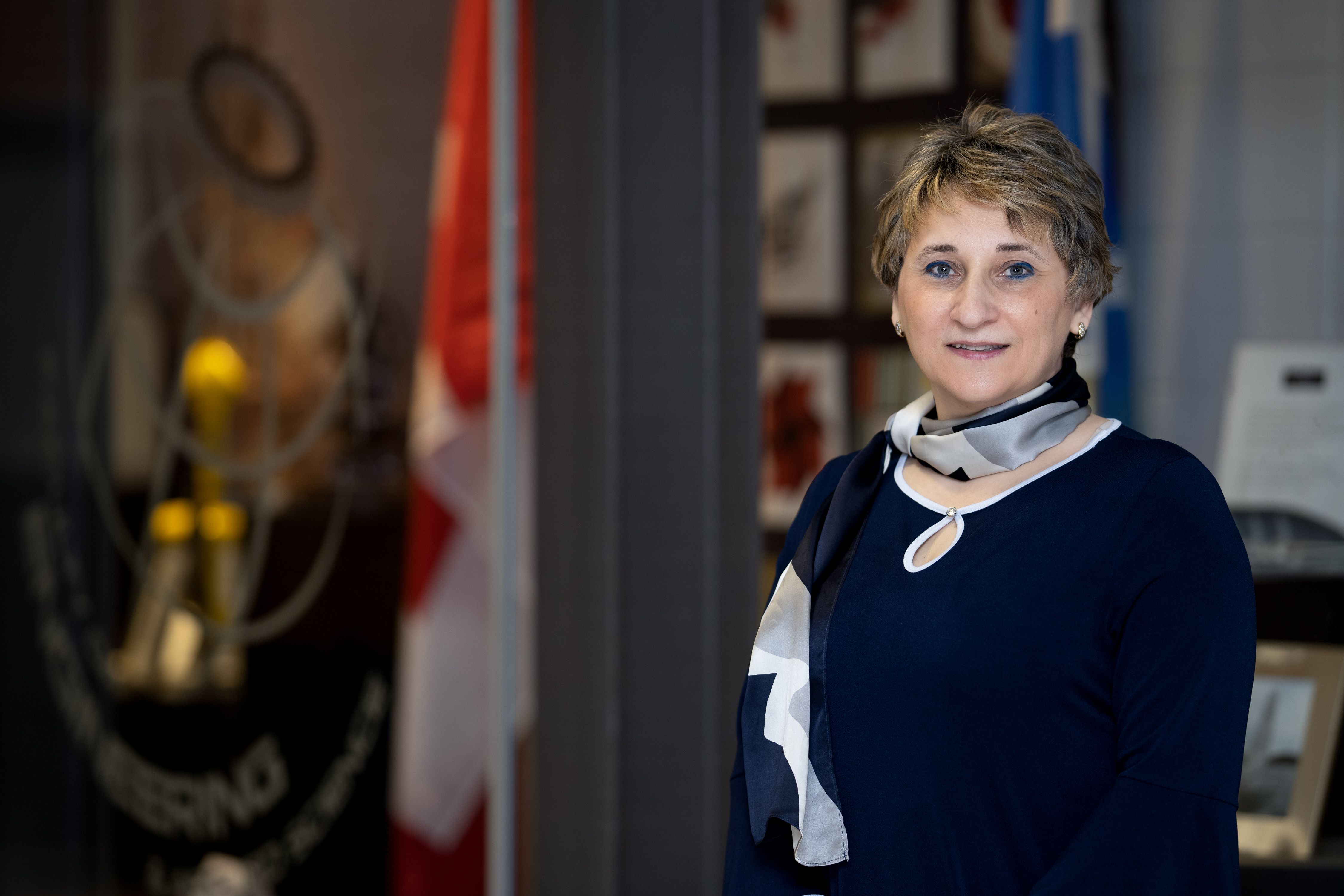 Dipl.-Ing., PhD (Politechnica University of Bucharest), FIEEE, FCAE, FEIC, P.Eng.
Interim Dean, Professor, and Research Chair
Contact Information
Ph: 709-864-4045
Em: odobre[at]mun.ca
Office: EN4018E
Research Interests
Wireless communications, Optical communications, Underwater communications, Signal processing for communications
Personal Profile
Octavia A. Dobre is a full professor and research chair at Memorial University, which she joined in 2005. In 2013, she was a visiting professor at Massachusetts Institute of Technology, USA, and University of Brest, France. Previously, she was with the New Jersey Institute of Technology, USA, and Polytechnic Institute of Technology, Romania.
Her research interests include wireless technologies for 5G and beyond networks, blind signal identification and parameter estimation techniques, transceiver optimization algorithms, as well as optical and underwater communications. She has authored and co-authored more than 300 internationally referred journal and conference papers in these areas.
Dr. Dobre is the inaugural Editor-in-Chief (EiC) of the IEEE Open Journal of the Communications Society. She was the EiC of the IEEE Communications Letters, as well as a senior editor, editor and guest editor with numerous reputable journals. She has contributed as general chair, technical chair, symposia chair, and tutorial chair of various flagship conferences. She was the inaugural chair of the IEEE ComSoc Women in Communications Engineering (WICE) standing committee, a member-at-large of the Administrative Committee of the IEEE Instrumentation and Measurement Society, as well as section chair with the Discovery Grant Committee (Electrical and Computer Engineering). She has also served with diverse IEEE technical and awards committees, and is a member-at-large of the Board of Governors of the IEEE ComSoc.
Honors/Awards
IEEE Communications Society Joseph LoCicero Award for Exemplary Service to Publications, 2022
Recognition Award, IEEE Technical Committee on Cognitive Networks, IEEE ComSoc, "For outstanding contributions to cognitive radio communications and networking," 2022
Fellow, Asia-Pacific Artificial Intelligence Association, 2022
Top 2% Scientist in The World, Stanford University, 2022, 2021, 2020
Exemplary Editor Award, IEEE Communications Surveys and Tutorials, 2021
Elected Member, European Academy of Sciences and Arts, 2021
Fellow, Canadian Academy of Engineering, 2021
IEEE Fellow, 2020
Best Paper Award, IEEE PIMRC, 2020
Outstanding Mentorship Award, IEEE ComSoc WICE Standing Committee, 2020
Distinguished Lecturer, IEEE ComSoc, 2019-2020
Best Paper Awards, IEEE Globecom, IEEE ICC, IEEE WCNC, 2019
Inspiring Member of the Year Award, Honorable mention, IEEE Women in Engineering, 2019
Outstanding Service Award, IEEE ComSoc WICE Standing Committee, 2019
Fellow, Engineering Institute of Canada, 2018
Best Paper Award, IEEE WCMC, 2017
President's Award for Outstanding Research, Memorial University, 2015
Outstanding Service Award, IEEE ComSoc SPCE Technical Committee, 2015
Dean's Award for Excellence in Graduate Student Supervision, Faculty of Engineering, 2014
Dean's Outstanding Research Award, Faculty of Engineering, 2013
Fulbright Scholar, 2001-2002
For more information, please visit my personal website: http://www.engr.mun.ca/~dobre/
Other Contacts