Kelly Hawboldt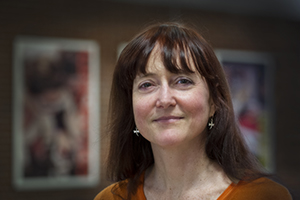 B.Sc. (Saskatchewan), M.Sc., PhD (Calgary), P.Eng.
Contact Information
Ph: 709-864-8382
Em: khawboldt[at]mun.ca
Office: IIC1006
Expertise
Energy
Green Engineering
Petroleum Engineering
Research Interests
Green Processing of Natural Resources, Biofuels, Natural Gas Processing
Personal Profile
I am a Chemical Engineer with a particular interest in the sustainable processing and extraction of natural resources, from forestry residues to offshore oil and gas to the food industry.
Honours/Awards/Accreditation
2013 Engineering Excellence in Graduate Supervision Award
Bantrel Award in Design and Industrial Practice Canadian Chemical Engineering Society
Research Highlights
My major research area is the green processing of natural resources, specific areas of research are outlined below:

Bioproducts from Industrial Waste
The focus is on the conversion and use of biofuels/products in regions where remoteness, infrastructure, distance to market, low volumes and highly diverse feedstock require innovative and integrated approaches. There are two areas of research, fish processing plant waste and forestry residue.
Green Processing
The work in this area includes waste minimization through by-product recovery, optimizing process design, and waste to energy. The focus is on the resource extraction industry. We have partnered with industrial partners to investigate actual processes such as the VALE hydrometallurgical plant, Voisey's Bay mineral processing facility, recovery of waste shells from shellfish processing, and offshore operators.
Stranded Natural Gas
In remote locations and/or offshore platforms the use of gas processing equipment is limited by space, operational ease, and costs.
Emission Control on Offshore Operations
The characterization and dispersion of emissions from offshore operations due to environmental and operational needs. In this work we are investigating emission sources and characterization and development of treatment/recovery processes (discussed in following section. I am part of a mutidisplinary team which was recently awarded an AIF to develop microfluidic detectors for offshore use. These sensors will not only result in better process control and monitoring program design but also decrease costs as the "right" compounds will be targeted.