Kelly Hawboldt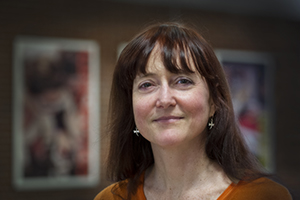 B.Sc. (Saskatchewan), M.Sc., PhD (Calgary), P.Eng.
Contact Information
Ph: 709-864-8382
Em: khawboldt[at]mun.ca
Office: IIC3029
Expertise
Waste Biomass processing

Green Engineering

Carbon capture and utlization
Research Interests
Green Processing of biomass residues produced in natural resources, Biofuels, Natural Gas Processing
Personal Profile
I am a Chemical Engineer with a particular interest in the sustainable processing and extraction of natural resources, from marine and forestry residues to offshore oil and gas, particularly as it applies to engaging remote and rural regions in the circular economy.
Honours/Awards/Accreditation
2023 Canadian Academy of Engineering (CAE) Inductee
2022 University Research Professor
2013 Engineering Excellence in Graduate Supervision Award
Bantrel Award in Design and Industrial Practice Canadian Chemical Engineering Society
Research Highlights
My major research area is the green processing of natural resources, specific areas of research are outlined below:
Bioprocessing
We focus on valorization of forestry and fishery residues where remoteness presents operational and sustainability challenges. We study the research gap in this area – development of processes and products that are appropriate to the region and the feedstock. My lab has been studying the pyrolysis of forestry and fishery residue to biochars and bio-oils and application of these products in; carbon capture and sequestration, soil amendment, metals adsorption, and resins. We are also investigating co-pyrolysis of fishery and forestry to capitalize on their proximity and the quality enhancement of products through synergistic effects. We have provided guidance to forestry policy for government with our work and positioned MUN as a hub for Atlantic Canada in valorizing forestry and fishery processing residues. My lab is developing green processes to extract value added chemicals from fishery. We work in collaboration with biochemistry, functional food, soil and ocean scientists, and chemistry to ensure any products developed meet quality requirements for aquaculture, nutritional, or medical applications.
Sulfur compound management in mining/oil and gas operations
Sulfur can speciate between sulfides, oxyanions, and elemental sulfur depending on the environmental conditions, making it difficult to manage. Our work is informing sulfur management methods at mining and oil and gas facilities.
Stranded natural gas
In remote locations, natural gas generated can be limited in application due to inability to treat the gas as processing equipment is limited by space, infrastructure, and costs. We are developing "green" processes to remove key contaminants in the gas (e.g. H2S) and/or p[roduce H2 from metahne. We have shown promising results using biochar from (1) for bulk produced gas treatment. Biochar is a by-product of fast pyrolysis; this represents a sustainable solution to waste management – waste treating waste.