Janna Rosales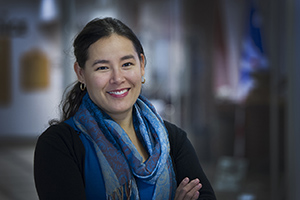 B.A., M.A. (Memorial University), PhD (University of Toronto
Associate Professor (Teaching)
Contact Information
Ph: 709-864-7960
Em: jrosales[at]mun.ca
Office: EN3056
Research Interests
Engineering education, technology and ethics, women in science and engineering, diversity education, nanotechnology and ethics, cradle-to-cradle design principles, corporate social responsibility, transhumanism and technoprogressivism, contemplative education, food security, ecological economics, dialogue education
Personal Profile
I work at the crossroads of the sciences and humanities, where I explore the values, needs and motivations that go into the decisions we make about technology. Because the practice of engineering involves countless decisions about design and technology, and because engineering undergirds so much of modern life, I became interested in the social and ethical aspects of engineering.
I graduated with my doctorate from the University of Toronto, where I studied the social and ethical implications of nanotechnology, and I joined Memorial's Faculty of Engineering and Applied Science in 2010 as a research associate with the MetaKettle Project, a Legacy Pedagogy Project supported by the 2004-2009 NSERC/Petro-Canada Chair in Women in Science and Engineering, Atlantic Region (CWSEA). Through the MetaKettle Project, I conducted research on innovative and integrative science and engineering education. In 2012, I became an assistant professor in the faculty, where I now teach complementary studies courses in professionalism, communication and ethics.
My current research interests revolve around a complex and global design challenge for the 21st century - "How do we build a better engineer?" - to ensure that graduates not only have solid technical competence but also strong transferable professional skills. Among other things in my research, I explore the links between leadership development, civic engagement, mindfulness and dialogue in engineering education.
I have also taught courses in technology and society for the departments of Sociology and Religious Studies and lectured with the Graduate Program in Humanities. I have been a member of the Student-Centred Learning Committee for the Teaching and Learning Framework, as well as a member of the Expert Working Group for the Office of Public Engagement and Chair of the Faculty Learning Community for Contemplative Education.
Research Highlights
2013-present: Reflective Pedagogies to Promote Professional Competencies and Identity in Undergraduate Engineering
2013-present: Lead by Design Spring Institute for Engineering Graduate Students (supported by the Hebron Diversity Research Grant, "Integrative Pedagogies to Increase the Participation of Women and Other Diverse Groups in Engineering." C. Moloney, Principal Investigator, with C. Badenhorst and J. Rosales)
2011-2012: "Thinking Creatively About Research: Explorations of a Pedagogy and Development of a Research Writing Workshop for Humanities and Engineering Graduate Students." Instructional Development Grant, C. Moloney, Principal Investigator. With C. Badenhorst, J. Dyer and J. Rosales