George Mann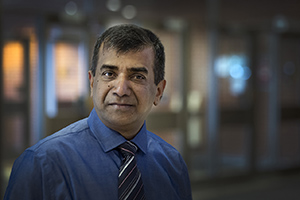 B.Sc. (University of Moratuwa), M.Sc. (Loughborough University of Technology), PhD (Memorial), P.Eng.
Contact Information
Ph: 709-864-8991
Em: gmann[at]mun.ca
Office: EN3057
Personal Profile
I joined the Faculty of Engineering and Applied Science at Memorial University of Newfoundland in January 2002 as an Assistant Professor and also as the C-CORE Junior Chair in intelligent systems. I received my bachelor's degree in Mechanical Engineering from University of Moratuwa, Sri Lanka. Then I obtained a master's degree in Computer Integrated Manufacturing from Loughborough University of Technology, UK, England and a doctoral degree in Intelligent Control from Memorial University, Canada. My doctoral study focused on development of an intelligent control scheme for process control in micro gravity experiments.
After finishing the graduate work at MUN, I joined C-CORE as a full time research engineer in Intelligent Systems where I was involved with several applied research projects related to automation in underground mining. In January 2001, I joined the Mechanical Engineering Department of Queen's University as a Postdoctoral Fellow while supported by an NSERC postdoctoral fellowship. During this period, I carried out research in the area of parallel manipulators. My current research is in the Intelligent Systems Laboratory (ISLAB) at Memorial University. My main research areas are, intelligent control, robotics and machine vision.