Baiyu (Helen) Zhang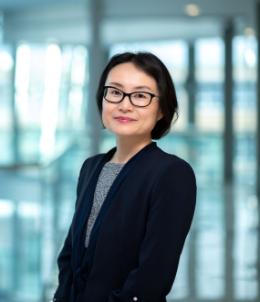 B.Sc. (Hons.), M.Sc. (Jilin), PhD (Regina), P.Eng., F.CSCE
Professor, Department of Civil Engineering
Canada Research Chair (Coastal Environmental Engineering)
Member, Royal Society of Canada (College of New Scholars, Artists and Scientists)
Contact Information
Ph: 709-864-3301
Em: bzhang[at]mun.ca
Office: EN2110B
Twitter: @Helen_MUN_Civil
Personal profile
Dr. Zhang joined the Faculty of Engineering and Applied Science (FEAS) at Memorial University of Newfoundland (Memorial) as an assistant professor in 2010. She received an early promotion (with tenure) to associate professor in 2015. Dr. Zhang was granted the award in 2017 for serving as Tier 2 Canada Research Chair (CRC) in Coastal Environmental Engineering. In 2019-2020, she served as associate dean, research (acting) of FEAS. Dr. Zhang was promoted to professor in 2020 and was renewed as CRC in 2022. She is a registered professional engineer in the Province of Newfoundland and Labrador, Canada.
Research interests/highlights
Dr. Zhang is the founder of the Coastal Environment Research Laboratory (CERL) at Memorial University, facilitating the development of bio-based products and technologies for mitigating marine and coastal pollution. She is also a key researcher of the Northern Region Persistent Organic Pollution (NRPOP) Control Laboratory, tackling the occurrence, transport, fate, impact, and control of organic especially emerging contaminants. Dr. Zhang's research expertise and interests lie in the areas of marine oil spill response, coastal/inland site remediation, coastal wastewater treatment, ocean carbon dioxide removal, offshore reservoir souring control, and fishery/municipal solid waste management. Through her leading-edge research, Dr. Zhang aims to contribute to handling coastal oil and emerging contamination, and driving the ocean economies to be more sustainable and productive under a changing climate.
Since joining Memorial, Dr. Zhang has led or co-led nearly 50 research grants/contracts. These include research funds with a total amount of more than 12 million Canadian dollars from diverse sources, including federal and provincial agencies, such as CRC, Natural Sciences and Engineering Research Council of Canada (NSERC), Canada Foundation for Innovation (CFI), Fisheries and Oceans Canada (DFO), Environment and Climate Change Canada (ECCC), the NL Research & Development Corp. (RDC), and the NL Department of Industry, Energy and Technology (IET); industry sponsors, such as Petroleum Research NL (PRNL) and Suncor Energy; and other international organizations such as United Nations Development Programme (UNDP).
Dr. Zhang has (co-)authored over 300 publications with more than 150 peer-reviewed articles in journals such as Water Research, Journal of Hazardous Materials, Environmental International, Environmental Science and Technology, Bioresources Technology, and Journal of Cleaner Production. Her research contributions have been widely recognized in newsletters and magazines such as Canadian Reclamation, Research Matters, Context Magazine (Canadian Association of Petroleum Producers), Natural Resources Magazine, and Gazette Magazine.
Services/honours/awards
Dr. Zhang has served on prestigious boards and committees such as Senior Expert of the United Nations Development Programme, Atlantic Region Director of the Canadian Association on Water Quality, and Chair of the Canadian Society for Civil Engineering NL Section. She is associate editor of Canadian Journal of Civil Engineering, editor of Journal of Hazardous Materials, and guest editor/editorial board member for multiple journals. She is a Member and Section Chair of the NSERC Discovery Grants Evaluation Group for Civil, Industrial, and Systems Engineering.
Dr. Zhang has received many awards and honors, such as Memorial President's Award for Outstanding Research, Dean's Award for Research Excellence of FEAS, NSERC Discovery Accelerator Supplement Award, CFI John R. Evans Leaders Fund Award, CFI Innovation Leaders Opportunity Fund Award, and NSERC Postdoctoral Fellowship. She is a Fellow of the Canadian Society for Civil Engineering, and a Member of the Royal Society of Canada's College of New Scholars, Artists and Scientists.