Andrew Vardy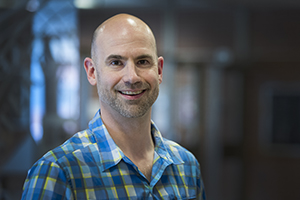 B.Eng. (Memorial), M.Sc. (Sussex), PhD (Carleton), P.Eng.
Contact Information
Ph: 709-864-4521
Em: av[at]mun.ca
Office: CSF-4128
Research Interests
Swarm robotics and biologically inspired robotics
Personal Profile
Dr. Vardy completed a B.Eng. in electrical engineering (computers and communications option) from Memorial University in 1999. After graduating, he became quite interested in bio-inspired computing and pursued this interest by completing a M.Sc. in evolutionary and adaptive systems from the University of Sussex in Brighton, UK. He continued his studies by completing a PhD in computer science from Carleton University, Ottawa. The subject of his PhD was the development of biologically plausible algorithms for robot visual homing. In 2005, he returned to Memorial University as an assistant professor, jointly appointed to the the Faculty of Engineering and Applied Science and the Faculty of Science's Department of Computer Science.
Dr. Vardy's main research interests are swarm robotics and biologically inspired robotics. He teaches courses in autonomous robotics, computer programming, software design and control systems.
Other Contacts