Ahmed Youssri Elruby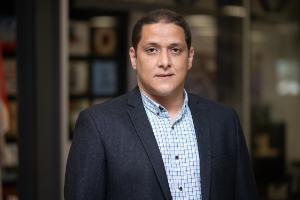 B.Sc. (Eng.), M.Sc. (Eng.), PhD (Memorial)
Contact Information
Ph: 709-864-7850
Em: aelruby[at]mun.ca
Office: EN3028
Expertise
Multiscale Finite Element Analysis

eXtended Finite Element Method

Large Scale Impact Testing

Failure and Mechanical Characterization

Composites Materials; Design Analysis and Testing

Aged Steel (Arctic Environment) Characterization

Elastoplastic Behavior of Porous Metals

Biomedical Material Characterization

Unmanned Aerial Vehicles (UAVs)

Data-driven Surrogate Model Development
Research Interests
Elastoplastic Behavior and Failure, Composite Structures, Ship Structures, Multiscale Modeling and Simulation, Sea-Ice behavior, Biomedical Implants and Prosthetics, Additive Manufacturing
Personal Profile
Dr. Elruby earned his bachelor's degree in mechatronics (2009) from the Arab Academy for Science, Technology and Maritime Transport (AASTMT), one of two ABET-accredited programs in Egypt. He pursued a master's degree focusing on the Intelligent Control of Unmanned Aerial Vehicles (UAVs) from AASTMT (2012).
Dr. Elruby moved to Newfoundland and Labrador in 2015 to pursue his doctorate degree from Memorial University. His PhD thesis focused on the mechanical behavior, multiscale modeling and failure predictions of different materials utilizing linear and non-linear finite element analysis. Upon earning his PhD, he worked as a postdoctoral fellow with two departments: Ocean and Naval Architectural Engineering and Mechanical Engineering.
His research is multidisciplinary in different fields with the main focus on mechanical characterization and failure.
Research Highlights
Strain Energy Density (SED) failure criterion within the framework of eXtended Finite Element Method (XFEM)
Extending the Ramberg-Osgood (RO) relationship to account for metal porosity
Aged steel characterization (Kulluk and HMCS Iroquois) ~40 years of Arctic service
Other Contacts