Dr. Terri Genge
Assistant Professor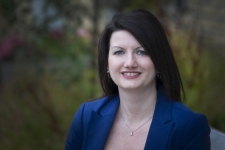 Dr. Genge received her bachelor of science (biochemistry) from Memorial University in 2001, her bachelor of science (Pharmacy) from Memorial University in 2004, and her doctor of pharmacy (PharmD) from Idaho State University in 2013. She joined the School of Pharmacy as a faculty member in 2006.
Research Areas of Interest:
The Scholarship of Teaching and Learning
Pharmacist Expanded Scope of Practice
Monitoring for Safety and Effectiveness of Medications
Teaching Areas of Interest:
Pharmacy Skills
Pharmacy Practice
Patient Care
Current Projects:
Pharmacy students learn to critically self-reflect using e-portfolios. Co-primary investigator
Laboratory testing to monitor the safety and effectiveness of antihyperglycemic medications. Co-investigator
Selected Publications:
Beverly FitzPatrick, John Hawboldt, Daniel Doyle, and Terri Genge (2015). Alignment of Learning Objectives and Assessments in Therapeutics Courses to Foster Higher-Order Thinking. American Journal of Pharmaceutical Education: Volume 79, Issue 1, Article 10.
Carla Dillon, John Mahoney, Terri Genge, Amy Conway, Katherine Stringer (May/June 2014). Prevalence of medication management by community pharmacists in patients of a Newfoundland family medicine clinic. Canadian Pharmacists Journal 147: 154-158, first published on March 31, 2014 doi: 10.1177/1715163514528869
Contact:
Dr. Terri Genge
Phone: (709) 864-7800