All Future Students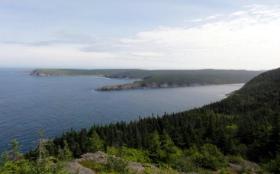 Memorial University is located on a 220 acre site adjacent to scenic and Long Pond in the , Canada, the most eastern city in North America. St. John's is the capital of the Canadian province of Newfoundland and Labrador. St. John's is a vibrant city with many restaurants and activities.
Signal Hill lies adjacent to the harbour entrance and, although it was used as a lookout for several centuries, it is most recently associated with the first transatlantic radio message received by Marconi in 1901. Today, Signal Hill is a National Historic Park, where locals and tourists watch for ships, icebergs, and whales.
Newfoundland and Labrador boasts a wealth of provincial and national parks, many of which are within easy reach of St. John's. Outdoor enthusiasts have ample opportunity to engage in activities such as hiking, biking, fishing and skiing. Among the many historic landmarks are the 1000 AD Viking settlement at L'Anse aux Meadows and Heart's Desire, the arrival place of John Cabot in 1497.
Downtown St. John's is characterized by a thriving nightlife with the famous George Street, home to over 40 establishments of a diverse nature, at its center. The fare extends from traditional pubs, dance bars, quiet bars to not-so-quiet bars. Live music ranging from traditional to rock to jazz abounds. Newfoundland is one of the safest provinces in Canada