Dr. Ken Barter named professor emeritus
Oct 20th, 2016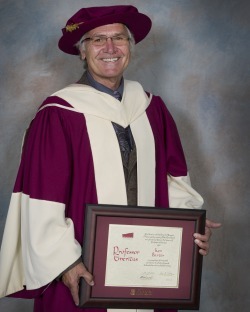 Dr. Ken Barter named professor emeritus
A professor emeritus or emerita is a retired member of the faculty who has served at least 10 years as a regular full-time faculty member and held the rank of professor upon retirement. The prime criterion for nomination is a sustained and superlative record as a scholar, as a teacher, or as an academic administrator or any combination of these.
Candidates for the rank of professor emeritus/emerita are nominated by their academic units and, as with candidates for honorary degrees, the nominations are then reviewed by the Senate's Committee on Honorary Degrees and Ceremonial. The candidates are approved by the university's Senate and Board of Regents.
Dr. Ken Barter earned a bachelor of arts degree from Memorial University, a master of social work from the University of Calgary and a PhD from Wilfrid Laurier University.
Dr. Barter was appointed the inaugural Chair in Child Protection for Memorial's School of Social Work in 1998. He served as the school's acting associate dean, undergraduate programs; associate dean, graduate studies and research; and chair of the school's Accreditation Committee. He has served on numerous other school and university committees.
Dr. Barter's considerable contributions to the School of Social Work include his exemplary teaching and supervision of numerous master of social work and doctoral-level students, his consistently high levels of leadership in program development, particularly his contributions to the specially designed bachelor of social work program for Inuit students in Labrador, and his research.
He also made a significant community education contribution—an award-winning video on his research in community capacity building for the protection of children.
Dr. Barter was awarded the 2013 International Association of University Presidents Award, which recognized extraordinary achievement in international curriculum development, service, and teaching for his contribution to improving public health and social services in rural Vietnam. He received Memorial's 2015 President's Award for Distinguished Teaching. He retired in 2015.