Annual bursary to assist foster children
Apr 25th, 2018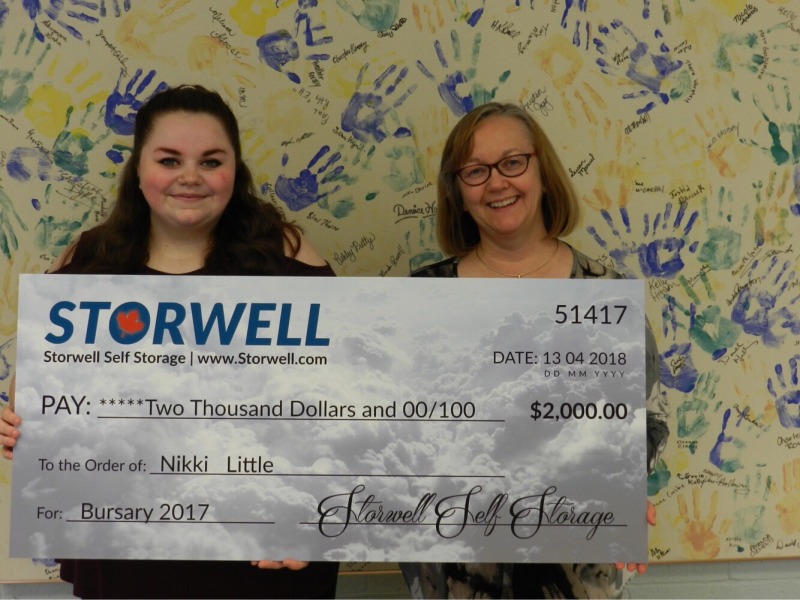 Annual bursary to assist foster children
Congratulations to third-year Bachelor of Social Work student Nikki Little on earning the Storwell Bursary!
Storwell, a self-storage company with locations in Toronto, Scarborough and Mississauga, Ontario, set-up the annual bursary to help foster children attend post-secondary schools and to offer a hand-up as they make their way forward in life.
In order to be eligible, an applicant must:
• have been a foster child with an official Canadian or American foster care program and must agree to having that verified by the organization;
• be enrolled as a full-time student at a recognized general/vocational college or post-secondary institution in Canada or the US;
• be a Canadian or American Citizen or Permanent Resident;
• be 24 years of age or less at the time of application.
The winner must agree to have his/her name, photo and post-secondary institution displayed on the Storwell website.
As part of the application process, Ms. Little had to write a paragraph, answering questions and attach a transcript of her marks from her Bachelor of Social Work program.
Storwell requested that Ms. Little provide a photo with one of her favourite professors and the ceremonial cheque, thus this photo with Professor Janice Parsons.
Nikki is also the recipient of the Status of Women Central Scholarship 2018, for her hometown of Grand Falls-Windsor, where she travelled to accept her award on March 8, International Women's Day.
Congratulations Nikki!