Autonomous Ocean Systems Laboratory
About
The Autonomous Ocean Systems Laboratory was founded in 2010 by Dr. Ralph Bachmayer and Dr. Brad DeYoung. Since it was founded, the laboratory has developed several autonomous marine systems. The largest vehicle was Sea Dragon, an autonomous semi-submersible vehicle specifically for measuring the subsurface and above the water surface of icebergs. SeaDuck used the lessons learned from Sea Dragon to create a unique vehicle with surface and sub-surface capabilities. Several student projects were also developed including a small catamaran vehicle for surveying lakes and a moored system for measuring physical properties in the water column.
Although neither Dr. Bachmayer nor Dr. DeYoung are full-time faculty at MUN, AOSL continues to operate under OERC (Ocean Engineering Research Centre) and is currently engaged in the design and construction of a prototype system for detecting underwater noise from marine mammals and alerting shipping of the risk of collision.
To learn more about Autonomous Ocean Systems Laboratory, click here.

People
Facility
Holyrood Marine Base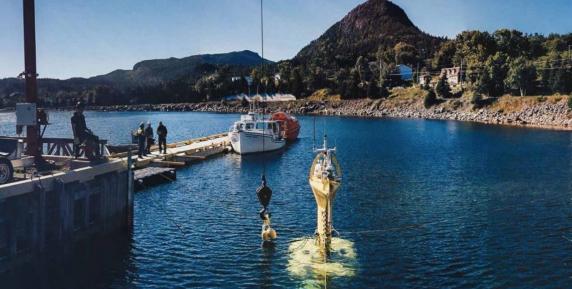 The Holyrood Marine Base includes R&D workspaces, availability of both large and small research support vessels and access to a deep cold water test range in Conception Bay. The marine base is operated by the Marine Institute of Memorial University of Newfoundland.
Location
EN 1035E
Faculty of Engineering and Applied Science
Memorial University of Newfoundland
St. John's, NL