Annual Research Day
Poster Contest
On November 24, 2022, the Annual Research Day student contest was able to revert to posters after going with video presentations in 2020 and 2021 during COVID restrictions.
"The video format definitely had its benefits," say organizers of the event in the Engineering Research Office. "One of the reasons research day came into existence was to have students ready for conference season. Most students present posters at these conferences. Plus, the in-person event also gives an opportunity for discussion."
Dr. Cui Lin, assistant professor in the Department of Process Engineering, had the tough job, along with Drs. Ahmed El-Ruby and Liam Morrissey, of judging the thirty-one entries.
"I enjoyed judging the research poster presentation contest, despite the fact it was very difficult," says Dr. Lin. "All participants did an excellent job. Their passion and confidence in showcasing their research and creativity really impressed me."
The Winners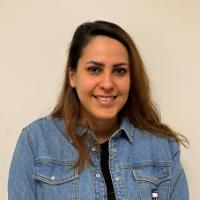 1st Place
First place went to Ms. Roya Sadat Neisan, PhD candidate in civil engineering, for her poster explaining the application of mussel shells to remove arsenic from drinking water.
Arsenic concentrations exceeding federal drinking water guidelines have been found in water supplies in several Newfoundland communities. Long-term exposure to arsenic can increase a person's chances of getting certain types of cancer, as well as other negative health effects, such as diarrhea, poor blood production, and abnormal heartbeat. As arsenic is not removed by pitcher-type filtration units or boiling, alternate methods are necessary to keep the population safe.
"My research focuses on finding affordable solutions for small communities in Newfoundland to remove arsenic from drinking water effectively," says Ms. Neisan, who is supervised by Drs. Noori Saady and Carlos Bazan. "For this purpose, I am designing a household water treatment system with an arsenic removal cartridge made of mussel shells, which would normally go to the landfill as fisheries waste."
Ms. Neisan, who saw the research contest not only as a chance to share her research, but also to improve her communication skills and expand her network, is thrilled to have captured the judges' attention and inspired others to want to know more about what motivates her to follow her research goals.
"My future research goal is to pursue interdisciplinary projects related to Sustainable Development Goals (SDGs) in general, specifically SDG 6, or Sustainable Development Goal 6, one of 17 Sustainable Development Goals established by the United Nations General Assembly in 2015. SDG 6 is to ensure the availability and sustainable management of water and sanitation for all."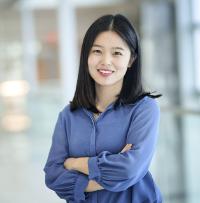 2nd Place
Second Place went to Ms. Min Yang, a Ph.D. candidate in Civil Engineering studying microplastic-oil interactions in the marine environment.
Ms. Yang's poster, entitled Microplastics Reduce the Efficiency of Oil-Spill Treating Agent in Oceans, illustrates that although microplastics are widespread in oil-polluted oceans, there have been limited studies to investigate the role of microplastics in offshore oil spill response operations such as dispersant application. Ms. Yang is out to change that.

"My research on the impacts of microplastics on oil dispersant efficiency in the marine environment found that microplastics reduced the efficiency of dispersants due to the formation of microplastic-oil-dispersant agglomerates or MODAs," says Ms. Yang. "And the formed MODAs transported widely in different seawater layers. This study provides essential information to support oil spill response operations with the existence of microplastics in oceans. The knowledge of MODA formation can assist the environmental risk evaluation of MODAs that have been previously overlooked."

Ms. Yang says she is very honoured to receive this award. "Winning this contest is a recognition of my work and shows that my efforts follow the correct path. It encourages me to pursue my research goals and be well-rounded. I will continue researching MODAs, especially their transport and fate in oceans, to help develop practical treatment technologies for marine oil and microplastic pollution control."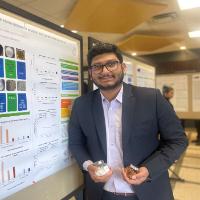 3rd Place
Mr. Shahrul Ibney Feroz, a master's student in the civil engineering department, took home third place for his poster describing his project with the city of St John's under the supervision of Drs. Kamal Hossain and Carlos Bazan.
The project, named Development of Improved Asphalt Mixture for the City of St. John's, aims to improve roads in the city by reducing rutting and moisture-induced damage. The research looked at the influence of fillers on the creep recovery performance of aged asphalt mastic and asphalt mixture containing modifiers and liquid anti-stripping agents.
In the study, different modifiers, anti-stripping agents, and fillers were added to the existing binder to evaluate the rheological performance of the mastics. This refers to how these mastics react under creep loading and unloading. The non-recoverable creep compliance (Jnr) and percent recovery (R) values are computed from the test results.
For advanced testing of mastics, the samples were sent to Rowan University in New Jersey. Mr. Feroz based his poster on the partial results obtained from testing. The mixture level tests are ongoing at the asphalt lab of MUN.
"Participating in any research contest is always exciting," says Mr. Feroz. "Placing in the contest makes me more confident and dedicated to my research. The poster contest presented an excellent opportunity to share knowledge with other researchers and learn from them. In the future, I plan to join the pavement industry, and after gaining some practical experience in the industry, I hope to start my Ph.D."
Honourable mentions
Two students received honourable mentions for their posters.
Yuhui Song, a Ph.D. student supervised by Drs. Cheng Li and Yuanzhu Chen won an honourable mention for their Tensor-Based Sparse Bayesian Learning with Intra-Dimension Correlation poster.


Sudipta Bhowmick is a master's student in civil engineering supervised by Dr. Bipul Hawlader. She also received an honourable mention for her research poster on the numerical investigation of stress and strain non-uniformities in a direct, simple shear sample.