Technology decisions
Goal: Promote CITL's Learning Technology Index in the selection of educational technologies.
Supports Strategic Priority 3:
Promote and support deep and engaged learning for all through high-impact practices, educational technologies, and the scholarship of teaching and learning.
Over the past few years, we have been working to build a Learning Technology Index designed to help instructors make informed decisions about using learning technologies. The index was ready in time to showcase it at Memorial's Teaching Learning Conference 2022.
The technologies in the index have been evaluated against a rubric for learning technology evaluation. The rubric supports a multi-dimensional evaluation of functional, technical, and social aspects of a resource or tool for supporting learning, regardless of delivery method. We invite you to explore the index and some of the 48 technologies currently listed.
Index Growth
Jan 2021 - June 2023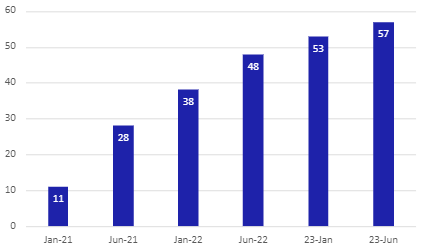 Over the course of 2 years, the Index
has grown to 57 reviews.