Assessing needs
Goal: Survey instructors annually on their needs for instructional resources and professional development.
Supports Strategic Priority 2:
Understand our stakeholder needs, align core services to these needs and clearly communicate these services to inform our teaching and learning community.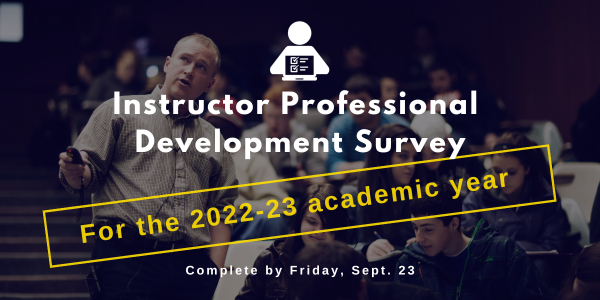 A new professional development survey for instructors was administered in the fall 2022 semester as a pilot for an annual survey CITL will be conducting to anticipate the needs of Memorial's educators.
The goal of the survey is to allow us to identify and address specific instructional needs by creating resources and professional learning opportunities.
In the fall 2022 survey there were 61 participants who identified several topics and areas of interest they needed support with, including:
instructional strategies (active learn

ing,

h

yflex

)

assessment strategies (alternat

ive,

unGr

ading

)

Brightspace support (features, content creation)

classroom tec

hnology
In response to this, for the winter 2023 semester we developed a selection of self-paced resources for instructors, and identified topics and presenters for our Instructor Series professional development sessions.
Plans are currently underway to develop and administer the next annual survey for the 2023-24 academic year.
---
The Respondents

Preferred methods of PD/Resouces delivery

Survey respondents represented 4 campuses and online, as well
as 14 different university area units