Student Publishes Book on Music in the Faroes
Sep 25th, 2013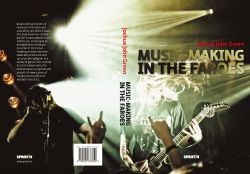 Student Publishes Book on Music in the Faroes
Joshua Green has published his first book, Music-making in the Faroes in June 2013. Green is currently a PhD student in the School of Music, studying Ethnomusicology.
Situated halfway between Norway and Iceland, lie the Faroe Islands, an archipelago under the Danish realm. Based on three months of MA research in Tórshavn and around the rest of the Faroes, Green's new book examines contemporary Faroese popular music and focuses particularly on the experience of being a musician in the Faroes. The author also explores the relationship between aspects of the islands' musical history and more recent developments in the Faroes' music scene. Drawing on extensive interviews with prominent and up-and-coming figures in a variety of genres from country music to heavy metal, this book presents a snapshot and analysis of several areas of Faroese musical life as it existed in late 2011.
Music-making in the Faroes is currently available as a book, soon to be followed as an e-book.
Green is further developing his research on music in the Faroes for his doctoral dissertation.