Festival Choir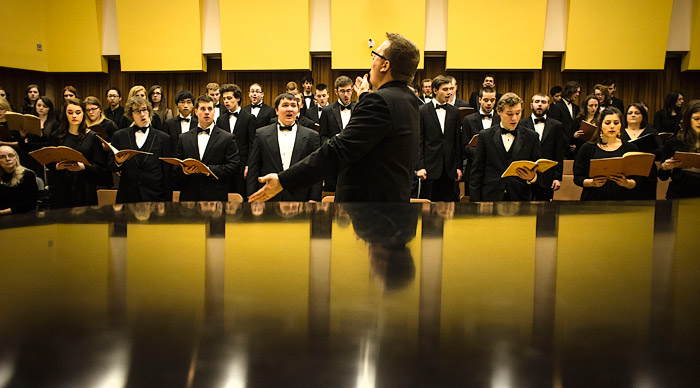 The Festival Choir is dedicated to the performance of major works for choir and orchestra. Its repertoire has included major oratorios from all eras, shorter contemporary works, and a variety of choral masterpieces from all styles of music. The choir has collaborated with the Newfoundland Symphony Orchestra and the Memorial University Chamber Orchestra to present major choral-orchestral works.
The Festival Choir has been the Memorial University's flagship choir for nearly 50 years. As part of the University's Golden Jubilee celebrations in 1975, the Memorial University Student Glee Club and the St. John's Extension Choir combined to form a Festival Choir, under the direction of D. F. Cook, for a performance of Joseph Haydn's Lord Nelson Mass. This new choir was so successful that the School of Music decided to continue this happy combination of student and community singers as a university choral society, under the name of The Festival Choir.
Auditions are not required in order to participate in Festival Choir. All students at Memorial University and members of the community with experience singing in school or community groups are welcome to join.
Questions? Dr. Jakub Martinec is on sabbatical for the 2023-24 academic year. Please contact Prof. Susan Quinn at d9sq@mun.ca if you have any questions about Festival Choir.