Music and Science Student Province's Newest Rhodes Scholar
Dec 9th, 2013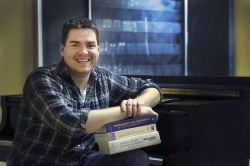 Music and Science Student Province's Newest Rhodes Scholar
Anthony Payne of Pasadena is Newfoundland and Labrador's newest Rhodes Scholar.
Mr. Payne joins a distinguished list of past Newfoundland and Labrador Rhodes Scholars, including well-known personalities Bill Rowe, Rex Murphy, Robert Joy and Danny Williams.
Currently in his fifth year of study at Memorial University, Mr. Payne completed a bachelor of music this past April and will finish a bachelor of science this spring.
"I've been involved in music my whole life," he said. "I play piano and have done a lot of choral singing. My parents both have math degrees from Memorial, so math has always been important in my life as well.
"It essentially came time to choose between math and music when I went university, but I managed to arrange things so I could work on both degrees simultaneously. I did a bachelor of music with a minor in statistics and am finishing a bachelor of science in statistics with a minor in music history. So that allowed a bit of overlap."
The recent announcement is so fresh to Mr. Payne, he says it's really just starting to sink in. His application was submitted in October and he and three other local students were invited to take part in a recent reception and dinner. It was followed by a formal interview the next day; Mr. Payne was informed of his selection that afternoon.
"No matter how much you prepare, or how far along you get, it's not ever something you actually expect," he said. "The other students involved were wonderful leaders and talented researchers. They're all doing great things and I don't believe I'm any better than they are."
Established in 1903, Rhodes Scholarships are postgraduate awards supporting outstanding all-around students at the University of Oxford, providing transformative opportunities for exceptional individuals.
Dr. Ellen Waterman, dean of the School of Music at Memorial, believes the Rhodes Trust made a wise decision in choosing Mr. Payne.
"Anthony is not only a fine musician and scholar, he is also a very generous person," she said. "During his time at the School of Music, he tutored students and helped raise funds to endow a music scholarship for students in need. I know he will make the most of the leadership and educational opportunities offered by the Rhodes Scholarship."
Being the next Rhodes Scholar means Mr. Payne will attend Oxford in October to begin working on a one year, course-based master of science degree in global health. It builds on the research in statistics he's currently doing at Memorial focusing on obesity in Newfoundland and Labrador and looking at associations between genetic and environmental factors and how they interact to cause obesity.
"I've been working with a lot of data and modelling," he said. "It's very useful and practical research and this will give me a chance to take what I'm doing now and look at it from a worldwide scale. If it works out, I may be able to take the research project I am working on for my master's and transition that into a D.Phil. in population health. It's basically a statistics-based public health degree looking at trends and patterns of diseases and their prevention."
"The Rhodes Scholarship is the world's most prestigious scholarship," said Dr. Andy Foster, associate dean of Science. "In this instance, it's wonderful that it provides Anthony the opportunity to further his statistical modelling ideas with experts in the field to ultimately make a difference in the world."
In addition to his passion for math and music, Mr. Payne enjoys playing squash and works part-time at the airport, a job that allows him to spend time outside and see the sun rise over the City of St. John's five days a week.