Meet the Majors - Performance with Jazz Minor - Matthew Roome
Mar 29th, 2022
In our Meet the Majors series, we are profiling current students and alumni of programs offered at Memorial University's School of Music! Whether you are a current student or thinking of applying, we hope these interviews help you gain insight into the range of programs that the School of Music has to offer. Visit this page to view a list of all of the majors and minors currently available for students.
A major in performance with a minor in jazz studies is a great program for students who have both advanced performance skills and an interest in jazz.
Meet Matthew Roome (BMus '23, Major in Performance, Minor in Jazz Studies)!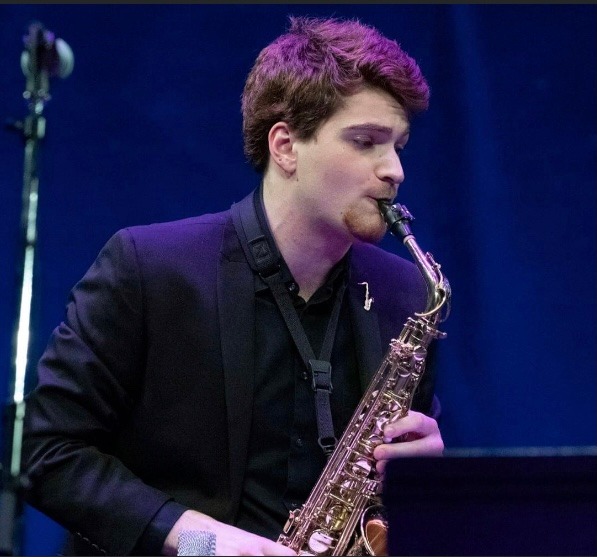 Matthew Roome is a third-year BMus saxophone student at Memorial University, majoring in performance and minoring in jazz studies. Originally from St. John's, Matthew is an active jazz performer and arranger in town, performing in smaller combos in the downtown scene as well as larger ensembles like the Jazz East Big Band.
Music at Memorial: When did you first become interested in music?
Matthew: I have been involved with music for a long time and started taking piano lessons when I was five years old. Fast forward to grade five, I picked up the sax through my elementary school's band program and the MUN lab band program. The year after that, I started playing the baritone sax. This instrument gave me a lot of opportunities to play with several different bands and ensembles in St. John's, including the Newfoundland Symphony Youth Orchestra, the Eastern School District Band, and I even played with the NSO at thirteen! After that, I kept playing the saxophone and making a lot of progress.
I think everyone around me realized that I was going to go into music school except for me for a long time. I didn't decide to audition until around two months before the application deadline. I was planning on being a science student as I was taking high-level sciences and calculus in high school. But then I made the switch and realized how much I enjoyed making music.
Music at Memorial: What are your career goals?
Matthew: I have always approached music with the mindset of taking on whatever opportunities come my way. Recently there has been a lot of teaching, performance and arranging opportunities. Going forward I would like to keep all three of those aspects in my career and see where it takes me! I might find a stable job with music or be a freelance musician doing all sorts of things. Music is what makes me happy right now, and I would like to keep that going! A dream job for me would be as a university professor teaching saxophone performance. I would like to teach a broad approach to the saxophone while continuing to arrange music and have performance opportunities.
Music at Memorial: Why did you choose to study Performance at Memorial? Can you explain what you do within the jazz minor?
Matthew: I had the opportunity before my audition to do a lesson with Dr. Christine Carter, the singe reeds professor. I found that she and I had a great connection, and I could tell that if I studied here at MUN I could get some great work done with Dr. Carter.
The jazz minor includes courses from a wide variety of categories. You have a musicology course that you have to take in Jazz Roots and Blues, two theory courses that combine composition with jazz theory and a performance-based course called Jazz Styles and Improvisation. Plus, there are additional ensemble requirements that are specific to jazz ensembles. For example, there is a jazz orchestra, or you could be involved in a smaller jazz combo. This minor is a great program as it won't take up an overwhelming amount of credit space! Of the fifteen credit hours that I am doing this semester four of them are based on Jazz courses. The Jazz minor helps give you direction and flexibility within the music program.
In jazz music, there is a lot more space for students to express themselves in comparison to classical. There are fewer barriers to what's right and wrong to play. Jazz gives students the freedom to explore a different side of their performance and is a great confidence booster! In the Jazz minor, you learn how to navigate your improvisations and gain exposure to more cultures in music!
Music at Memorial: Do you have any advice for those looking to minor in jazz studies?
Matthew: With the jazz minor there are three main components that come with entry to the program. The first is a grade requirement in Theory 1108. I would encourage students to pay attention in theory class and take in as much knowledge as they can, especially regarding harmony which helps a lot down the road. The second component would be to keep up with your applied and the third is to show them that you're willing to improvise.
The most important thing is to not be afraid. Go into your jazz audition with the same confidence that you would have if you were performing music that was in front of you. Embrace what happens and be prepared for the unexpected - that is what jazz is all about!
- Interview conducted by Music at Memorial's Winter 2022 Digital Marketing Intern, Sarah Knight.