Ethnomusicology Graduate Named Fulbright Scholar
Sep 22nd, 2013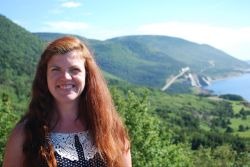 Ethnomusicology Graduate Named Fulbright Scholar
Dr. Marion MacLeod, a graduate of the School of Music, has been named Fulbright Scholar.
She recently received her doctorate in Ethnomusicology from Memorial and holds an MA in music history from the University of Ottawa and two degrees from the University of Windsor – one in education and one in piano performance. The Fulbright Scholarship is for one year, but she intends to continue her research at the University of Chicago for two years with additional funding from the Social Sciences and Humanities Research Council (SSHRC).
"Many American vocal genres are defined by their timbre – that is, the colour of their sounds. Timbre is stylistic, but is often seen as a lifestyle marker and is described in socially suggestive terms," she explains. "My project, entitled Sounding and Resounding Race Through Timbre, will study timbral and ideological nuances in music ranging from mountain music to Motown and examines often contradictory ways they are taught and performed when 'covered' by choral ensembles."
An active and diverse singer, pianist and accordionist in a variety of musical genres, Dr. MacLeod was awarded both a doctoral and postdoctoral scholarship from the Social Sciences and Humanities Research Council of Canada (SSHRC). She has presented her work for the International Council of Traditional Music, The American Historical Association, the International Association of Popular Music and the Society for Ethnomusicology.
Fulbright Canada is a joint bi-national, treaty-based organization created to encourage mutual understanding between Canada and the United States of America through academic and cultural exchange.
Fulbright Scholar Awards enable emerging and established scholars, post-doctoral researchers, and experienced professionals to conduct research, teach or undertake a combination of both activities for one semester or the full academic year. This award can be held at any university, research centre, think tank or government agency.