NLAS and MUN students collaborate to analyse Burgeo lithic collection
Oct 27th, 2016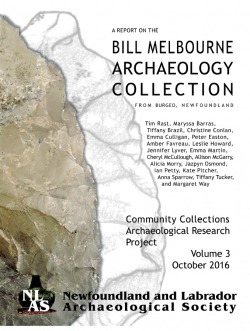 NLAS and MUN students collaborate to analyse Burgeo lithic collection
In a joint effort the Newfoundland and Labrador Archaeology Society (NLAS) and MUN students have produced a report documenting a privately-held collection of archaeological lithic artifacts from Burgeo on the south coast of Newfoundland.
To facilitate public education and awareness of heritage and archaeological resources, the NLAS runs an ongoing project called the Community Collections Archaeological Research Project (CCARP) which works with private collectors across the province to locate and record their artifact collections. The Bill Melbourne Collection from Burgeo is such a collection which was recently donated to the province.
Undergraduate students taking the ARCH 4183 - Lithics Analysis course, analysed and illustrated the Burgeo collection, under the guidance of course instructor Tim Rast, to produce a richly illustrated report.
Find out more about this research project in the latest CCARP report.