Conservation Laboratory and Collections Rooms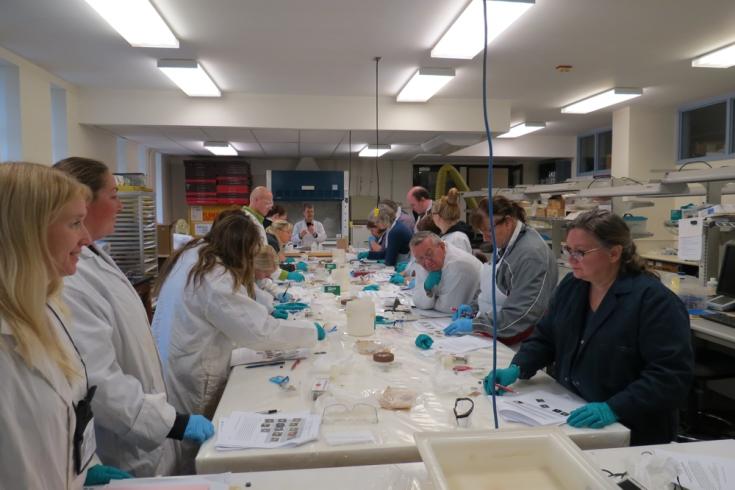 Conservation Laboratory
The role of the conservation laboratory is to assist with the long-term preservation of archaeological material through the stabilization of objects recovered from sites across Newfoundland and Labrador. It is a resource that is accessible to all students and faculty within the Department of Archaeology at Memorial in support of their research.
The archaeological conservator, Donna Teasdale, works on site directly with faculty researchers and students to prevent or slow down further deterioration of freshly excavated material. The conservator also treats objects that have already been excavated, usually from remote locations. These objects are transported back to the conservation facility once the field season is over for assessment and treatment.
Due to the large quantities of artifacts that come into the lab each year, most material requiring conservation will go through bulk treatment processes. This includes the desalination of numerous ferrous metal objects (such as nails) and some organic materials including wooden artifacts. Initial artifact condition reports are carried out to determine conservation needs and priorities.



The conservation laboratory is equipped with:
four large sinks
large bench space
microscopes
Accumet XL50 ion/ISE meter
large freeze drier
walk-in cold room
freezer room storage
treatment tanks
fume hood
air abrasive machine, and other hand held cleaning tools.
---
Collections Rooms
The large collections room and nearby iron artifact storage room house assemblages from many historic and prehistoric archaeological sites in Newfoundland and Labrador. The collections room has several compact, high-density rolling storage units that incorporate individual cabinets and trays plus open storage space. The collections room also contains several tables for layout and study of specimens by students and visiting researchers. Reference collections feature ceramic types, glass bottles, and European clay pipes for use in research.


| | | |
| --- | --- | --- |
| | | |