M.A. in Archaeology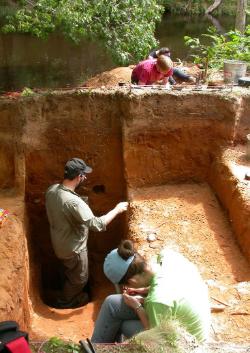 The Department of Archaeology at Memorial offers funding packages to academically eligible full-time graduate students, both Canadian and international, in eligible programs. Memorial University also has the lowest tuition rates in North America for pursuing a graduate degree.
The M.A. in Archaeology is offered in pre-contact or historical archaeology, with an emphasis on, but not limited to: bioarchaeology, environmental archaeology, archaeological theory, the archaeology of Northeastern North America and the Arctic.
The choice of speciality will govern the selection of supervisor(s), courses, and thesis topics. When candidates are accepted into the program, they will be assigned one or more supervisors. Candidates' programs shall be the responsibility of their supervisor(s), the graduate co-ordinator(s), and the Head of the Department.
Program of Study
1. Students will normally be required to successfully complete four (4) courses during their first three semesters in the program. The two (2) required courses are:
Two additional courses are taken, one in each semester of study.
2. If candidates' records suggest a deficiency in some area(s), the Department reserves the right to require that they complete additional undergraduate courses before beginning program courses.
3. Normally, the M.A. program should take six academic semesters to complete, of which the first three semesters will be spent in completing course work, writing and orally defending a thesis proposal before members of the faculty, and beginning to carry out research. The following semesters will be spent in completing research, presenting an oral research report to the Department, and completing a thesis.
4. Candidates for the Degree of a Master of Arts in Archaeology will be required to complete not fewer than 12 credit hours, nor more than 18 credit hours of courses at the graduate level.
5. Most Department graduate courses are taught in either a seminar or tutorial framework; all courses require intensive reading, regular oral communication of ideas to faculty and other students, and preparation of written research papers and other assignments.
6. Normally, during the second semester of the first year of study in the program, a written thesis proposal which has been approved by the student's Supervisor(s) will be circulated to all members of the Department. The written thesis proposal should be made available to faculty members at least two weeks prior to the scheduled date of a student's oral presentation and defence of the proposal.
7. Shortly following the completion of their research, candidates will be required to present an oral research report on their findings to the Department.
8. A final draft of the thesis will be evaluated in accordance with the requirements of the School of Graduate Studies.