Dean's List 2013-2014: Archaeology
Nov 10th, 2014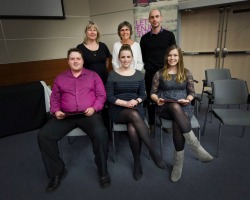 Dean's List 2013-2014: Archaeology
The Dean's List is a way of recognizing excellence in students who are registered for a BA or BA Honours degree.
Compiled annually in the spring, it includes the very best students.To make the Dean's List, students must complete a minimum of 9 courses over two semesters (or 10 over three semesters) and achieve high marks.
Below is a list of students in the archaeology department who were recognized on 3 November:
Ethan Doney
Alison Harris
Melanie Morrison
Alicia Morry
Melanie Stockley
Furthermore, Alicia Morry is the recipient of the John and Jane Crosbie Scholarship, and Melanie Stockley won the Departmental Book Prize.
Congratulations all!