DAG and The Cyprus Institute. A Virtual Student Seminar: Bridging Continents
Oct 25th, 2018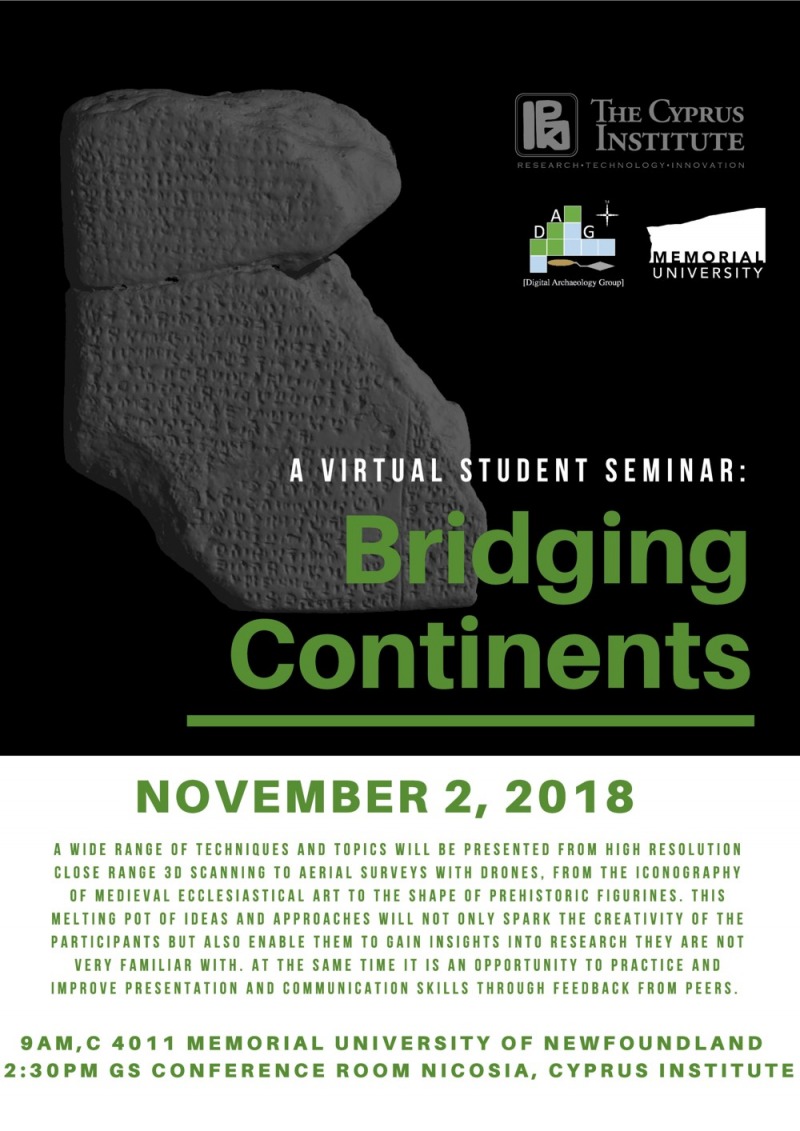 DAG and The Cyprus Institute. A Virtual Student Seminar: Bridging Continents
PhD students in Cultural Heritage and new technologies from the Cyprus Institute in Nicosia (Cyprus) and the Memorial University of Newfoundland in St. John's (Canada) are meeting on virtual grounds to discuss their research and exchange ideas in an online seminar.
The seminar is a collaboration between the Digital Archaeology Group (DAG) based in the Department of Archaeology, MUN and The Cyprus Institute. A wide range of techniques and topics will be presented, from high resolution close range 3D scanning to aerial surveys with drones, and from the iconography of Medieval ecclesiastical art to prehistoric figurines.
The event (), organized by and for students, is taking place on Nov 2nd at 9:30am in C4011 at MUN. Fellow students are welcome to attend, join the conversation and give feedback. Presentations will be 15 minutes with time for questions, and the seminar will include a coffee break at 11:00am.
Presentations will include:
Julia Brenan: "Digital Birch Island"

Christina Roditou: "Apostolos Ververis' photographic expedition to Cyprus in the 1950s; Digital approaches to a photographic archive"
James Williamson: "Beothuk House-Pits in the Exploits River Valley"
Valentina Vassallo: ''A 3D Digital Approach to the Stylistic and Typo-Technological Study of Small Terracotta Figurines. Ayia Irini, Cyprus as a case-study"
Allan Wolfrum: "Hot Rocks: A multi-instrument geophysical approach to locating precontact hearth features in central Labrador"
Bryn Tapper: "The application of multi-imaging and multi-lighting techniques in the analysis of Maritime Algonquian petroglyphs"
Martina Polig: "Using structured light scanner for archaeological research – a case study about Cypriot-Minoan writing"