Archaeology Seminar Series 2020: Dr. Severin Fowles discusses Pueblo iconology
Jan 28th, 2020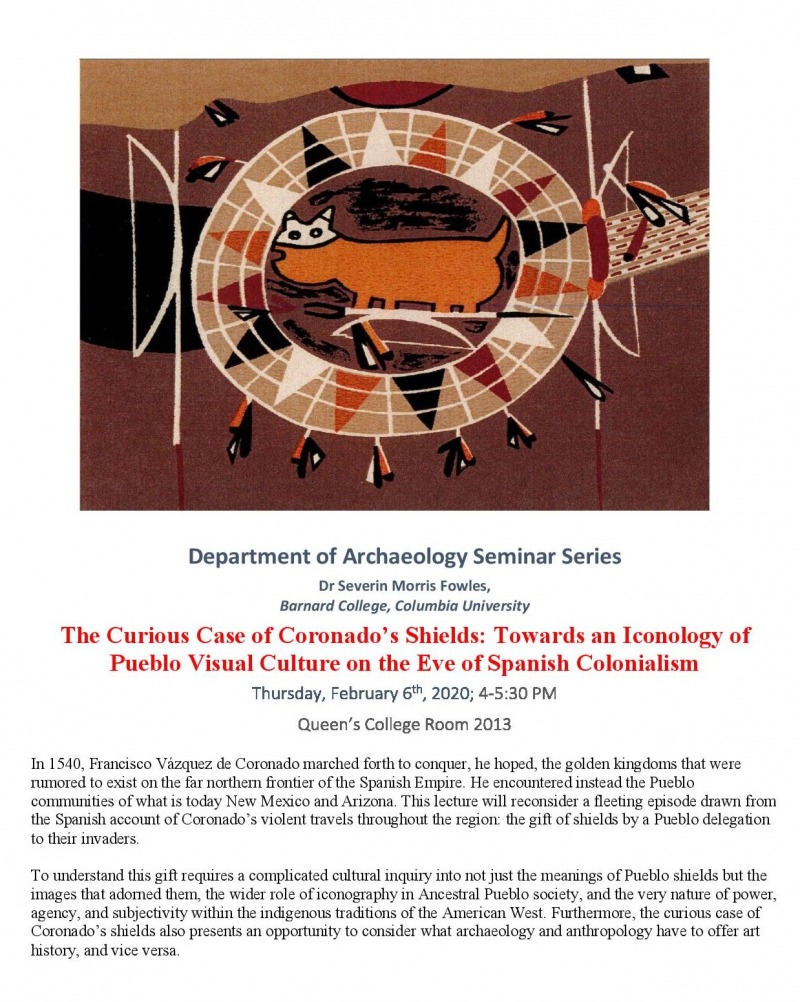 Archaeology Seminar Series 2020: Dr. Severin Fowles discusses Pueblo iconology
The Department of Archaeology's Seminar Series for 2020 gets underway with a talk by Dr. Severin Fowles of Columbia University who will discuss "The Curious Case of Coronado's Shields: Towards an Iconology of Pueblo Visual Culture on the Eve of Spanish Colonialism".
Join us on Thursday 6th Feb between 4-5:30pm in QC-2013.
Dr. Fowles explains: "In 1540, Francisco Vázquez de Coronado marched forth to conquer, he hoped, the golden kingdoms that were rumored to exist on the far northern frontier of the Spanish Empire. He encountered instead the Pueblo communities of what is today New Mexico and Arizona. This lecture will reconsider a fleeting episode drawn from the Spanish account of Coronado's violent travels throughout the region: the gift of shields by a Pueblo delegation to their invaders.
To understand this gift requires a complicated cultural inquiry into not just the meanings of Pueblo shields but the images that adorned them, the wider role of iconography in Ancestral Pueblo society, and the very nature of power, agency, and subjectivity within the indigenous traditions of the American West. Furthermore, the curious case of Coronado's shields also presents an opportunity to consider what archaeology and anthropology have to offer art history, and vice versa."