Doctoral Seminar Series
Usability of Wearables in Post-Secondary Anxiety Interventions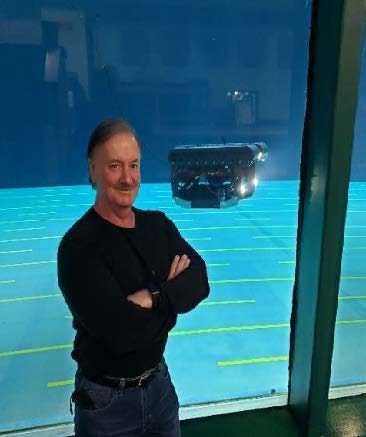 Thursday March 31, 12:30-2:0o
Moderated by Donald Haynes, Doctoral Student, Faculty of Education
In today's Post-Secondary learning environment, anxiety and anxiety disorders are becoming significantly more prevalent. Often anxiety has comorbidity with depression, which can correlate into the early onset of serious life-threatening conditions like substance abuse, suicidal ideation, and heart disease. If anxiety is not properly treated, the repetitive, intrusive, and worrisome thoughts can persist for extended periods causing students to suffer from a loss.
Join from the meeting link:
https://mun.webex.com/mun/j.php?MTID=m80da443124e82f41095fcf6d498062b3
Donald Haynes brings to the Ph.D. program a background of diverse education and work experience, underpinned by the engineering, education, and management disciplines. With over 20 years as a faculty member with Memorial University's Marine Institute, Donald has developed curriculum across multiple programs including the Master of Technology Management, Bachelor of Technology, Underwater Vehicles, Marine Engineering, Nautical Science, and the Department of National Defence. Prior to his time with the Marine Institute, Donald worked for approximately 13 years as a professional engineer in various project management and senior management roles.
The aggregate of this work experience has enabled him to enrich current work-related responsibilities which include curriculum development and delivery for such courses as "Information Technology Applications in the Health and Engineering Technology Environments", "Technology in the Human Context", and "Marine Communications and Networking". Given Donald's background and knowledge he has been involved in several interdisciplinary special projects and committees including a new "Math Working Group" established to develop a comprehensive approach to bridge gaps between Secondary skill levels and Post-Secondary entrance requirements.
---
Changes in High School Distance Education Science Teachers' Pedagogical Content Knowledge (PCK) During Remote Lesson Study

Thursday, March 17, 2022: 12:30 – 2:00 p.m.
Moderated by Patrick Wells, Doctoral Student, Faculty of Education
Meeting Link:
https://mun.webex.com/mun/j.php?MTID=mc3184cc132a50cc36aaadd4e7ef66c34
This qualitative case study examines changes in Pedagogical Content Knowledge (PCK) of distance education science teachers as they conducted remote lesson study (LS). A three-teacher LS group supported by a knowledgeable other and an administrator, developed a remote science inquiry instruction (RSII) lesson, for students in geographically disparate schools. Synchronous LS meetings were conducted using Google Meet and the interpretive case study data sources include field notes, teacher documents, semi-structured interviews, lesson study meeting recordings, and teacher reflections. During the study, plan, teach, and reflect phases of LS teacher enacted PCK, or ePCK, was conceptualized using the Refined Consensus Model (Carlson et al., 2019).
Teachers learned collaboratively during the study, plan, and reflect phases of lesson study while students impacted individual teacher learning during the RSII enactment in the teach phase. Teaching the research lesson increased teacher ePCK of student misconceptions, understanding of student difficulties, and provided insights into students' motivation to learn via remote inquiry. Student responses and behaviors during the Teach phase of LS inquiry, while difficult to sense in a remote setting, concretized prospective forms of ePCK from the Study and Plan phases. Our findings underscore the importance of lesson study's collaborative planning, predicting student behaviours, experiencing lesson enactment, and vicarious reflection and learning from teaching experiences to develop ePCK and improve teaching.
Patrick Wells (he/him) is a doctoral candidate interested in professional learning, teacher knowledge, and inquiry (both teacher and student inquiry). His experiences with action research, both personal and with large research projects (Teachers in Action - Karen Goodnough), shaped his pedagogy and interest in researching collaborative forms of teacher professional learning (PL). His interest in lesson study was fostered by his committee, the 701A/B students and instructors, and conversations with several faculty members. He believes action research and lesson study are effective models of PL that should be adopted by the NLESD to improve teaching.
---
Previous Doctoral Seminars
Thursday, March 10, 2022: 12:30 – 2:00 p.m. Teaching with GIS: Enhancing Spatial Intelligence through Geographic Inquiry in - Moderated by Paul Elliott, Doctoral Student, Faculty of Education
Thursday, March 3, 2022: 12:30 – 2:00 p.m. A Panel Presentation - Sketches, Stories, and Belonging: Our First Year Doctora - Moderated by Dr. Cecile Badenhorst and Dr. Beverly FitzPatrick with Kelvin Quintyne, Tayebeh Sohrabi, Arif Abu, Simon Adu-Boateng, and Benjamin Boison.