Computer labs and facilities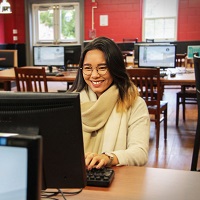 There are a variety of computer labs on the St. John's campus for use by students and employees. Information in this section includes the hours of operation, location, software available, and how to book some of these labs. There are other labs specific to a faculty or school that are not included in this list.
The Commons is a partnership between IT Services, QEII Library, Centre for Innovation in Teaching and Learning, and The Writing Centre to provide access to print and technological resources with the support and expertise needed to help clients manage these resources.
The Digital Media Centre is a resource for faculty, staff and students. The primary focus of the centre is multimedia. Effort is made to keep current with new technologies and provide access to specialized software and printing devices.
A makerspace is a place where people can gather to create, invent, tinker, explore and discover using a variety of tools and materials. The Commons Makerspace is physically flexible and contains equipment & supplies that allow students to explore their creativity. It gives students the resources to conceive an idea and bring it into the physical world.