Take the opportunity: Learn and teach online
Dec 14th, 2015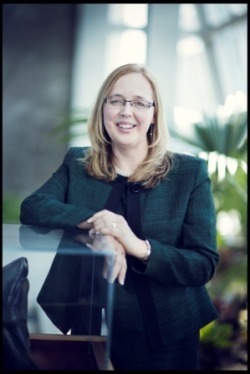 Take the opportunity: Learn and teach online
Dr. Donna Hardy Cox, dean of Memorial's School of Social Work, is a big supporter of online learning and the opportunities it provides to both students and professors. Watch video testimonial.
Many students benefit from taking online courses, as it allows them the flexibility to manage work and family responsibilities. But Dr. Hardy Cox believes it can help in other ways as well.
"The convenience of online learning is attractive to students for many reasons," she said, "but it also accommodates a student's individual learning style. It affords students another opportunity and another way to engage with their coursework here at the university."
In her experience, Dr. Hardy Cox has enjoyed engaging some of the scholars and textbook authors by bringing them in to interact with her students in their online discussion groups.
"Students then have the opportunity to ask them questions and have direct interactions with that person," she explained. "It's proven to be a very rich learning experience for students when they can have that kind of opportunity to engage with the scholars that they're studying."
And according to Dr. Hardy Cox, online learning not only benefits students, but professors as well.
"To a professor teaching in an online course, you have a tremendous range of options. It gives you the opportunity to create the ideal teaching and learning environment for students."
For more information about online learning at Memorial, visit delts.mun.ca.