Meet our Bachelor of Social Work, Nunavut cohort
Jan 5th, 2022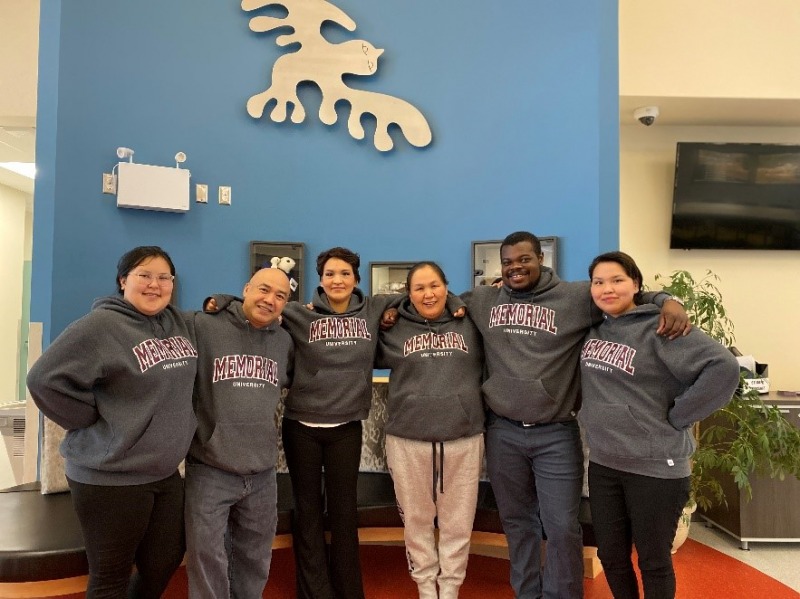 Meet our Bachelor of Social Work, Nunavut cohort
As part of the broader partnership between Nunavut Arctic College (NAC) and Memorial University, the School of Social Work is offering this BSW to graduates of NAC's Social Service Worker Diploma.
The Nunavut BSW program is strongly connected to Inuit Qaujimajatuqangit (IQ) Principles.
The first cohort of six students are extremely engaged, passionate, and proud to be furthering their education in social work. Faculty from our school have been travelling to Nunavut to teach in the program and, at the same time, have enhanced their understanding of Inuit culture, history, and social context.
During the first term, students were particularly excited to have several guest speakers from Nunatsiavut and from St. John's, all Memorial alumni or current students, including one graduate from our Inuit Bachelor of Social Work Program in Labrador. For most students, it was the first time that they had met an Inuk social worker. One student commented that "I can and am able to fight for our Inuit customs to be considered to make change in the outside world. I have learned that there are Inuit social workers who are doing this and I would like to be like them."
Student Profiles
Anna Wolki
I completed my Social Service Worker diploma in June 2021 and worked at the mental health facility over the summer prior to joining the program. I feel honored to be able to continue my education in the Bachelor of Social Work because there are not many Inuit Social Workers in Nunavut. I hope to be able to serve Nunavummiut in the helping field and promote other students in Nunavut to join the program and further their education.
For more info on Anna, see: GRAD 2021: Taloyoak mother attains social work diploma and aims for degree - NUNAVUT NEWS
Charles Zikalala
I worked with the Embrace Life Council as a Territorial Suicide Prevention Coordinator facilitating educational workshops that are life promoting. While maintaining my position at the Embrace Life Council, I ventured into my own private practice (Hatku Ltd) and consultancy as a Wellness Programs Specialist.
My specialty involves proposal writing, facilitating groups and workshops, developing, and implementing community programs to address issues of mental health and social inclusion. I also can bring community service-based providers together for discussions and action items which will benefit most of the people we serve.
By venturing into my own private practice, I am proud to say that I am a co-founder of the Kitikmeot Friendship Society (KFS). KFS is a non-profit regional organization established to support families and children challenged with FASD, child sensitive cases of neglect and abuse, as well as addressing gaps in services at a grass roots level.
My passion for business and economic development also contributes to the excitement I have in serving people. I am also the owner of Ziggy's Enterprises Inc. which provides services in the areas of community public transportation, food delivery services, procurement services, freight, and logistics. I perceive myself to be solutions focused and it brings joy to my heart to see people flourishing and having their needs met.
It is a humbling experience to be part of the BSW-Nunavut Cohort. Education is key to serving people and maintaining relationships. It is also the foundational aspect to having an optimal standard of living which I am genuinely pleased to be a part of the process. I am grateful for this opportunity.
I hope to continue my work in the macro world of community development and helping to develop policies and structures which address the needs of most people who we serve in Nunavut. I maintain the position that where silenced voices are oppressed, I will keep advocating to have their voices amplified for the greater good. If I can participate in the MUN MSW program, my heart will be delighted.
Pauline Pauloosie
Pauline Pauloosie is from Taloyoak NU, and is a mother of three children.
Prior to joining this program, I took the Early Childhood Education (ECE) Diploma Program in Cambridge Bay. After completing the ECE program I enrolled in and completed the Social Service Worker Diploma Program and worked as a Life Skills Worker at a mental health facility.
I feel honored to be able to continue my education in the social work field, with the skills learned to become a helper for individuals and communities who are in need.
My hope for the future is to be a leader, building positive relationships for youth and people by effectively using skills and knowledge that I have learned.
Larrie Soberano
Before I began this Bachelor of Social Work Degree Program I worked many years as a Hospital Chaplain and a Mental Health Outreach Worker. For the past seven years I have been working as Life Skills Worker at a mental health facility.
Currently, I am a full-time student in the BSW program and I work full-time at the mental health facility.
Motto: John 10:10 "I have come to give you life and have it abundantly."
Linda Uvilluk
Linda Uvilluk is a single mother of five children.
Prior to joining this program, I was the Manager for the Pangnirtung Housing Association from May 2020 to August 2021.
I am happy to be working towards my BSW as I have waited 12 years for this program to be delivered in Nunavut. While I was taking Human Services from 2007 to 2009, just before our program ended our instructor informed us that if we wanted to go for our BSW we would have to go to Whitehorse, Yukon. It has always been in the back of my mind, but I never went … as I didn't want to leave Nunavut.
I hope to work in a shelter for abused women or at a school as a counselor. Having gone through fleeing an abusive partner, I believe that I would be suitable working in this environment. As a school counselor, I think this would be another environment for me to be working in as I feel that I would be someone who would be trusted by the students. I love helping people when needed and feel comfortable doing so.
Vanessa Totalik
Vanessa Taniki Totalik is from Taloyoak, Nunavut, and is a 32-year-old single mother of an elementary school-aged daughter.
In 2018 I went back home to Taloyoak after being in Cambridge Bay for a few years, and went back to high school to complete grade 10. Before school was over, I applied for the Social Service Worker Program (SSWP) and College Foundations. I got accepted for SWWP and completed my diploma. I heard about the BSW [that] Memorial University was offering and decided to apply to be part of the Nunavut Cohort.
I'm very ecstatic about getting a degree in social work. As an Inuk living in Nunavut, it is important for me to keep the knowledge and skills I learned from the Elders. For instance, the Inuit Qaujimajatuqangit and the CASW Code of Ethics that we follow [help] to ensure we use our practices in the field to help clients and communities.
When I graduate from MUN with five of my classmates I hope to work with them to build stronger relationships with each community in Nunavut. I believe that we can change the outcome as social workers for Nunavut and encourage more Inuit to have education. Also, we need more Inuit social workers to become educators so that we can build a strong relationship, trust, and resiliency for all of Nunavummiut.