Inspired by Labrador
Oct 23rd, 2019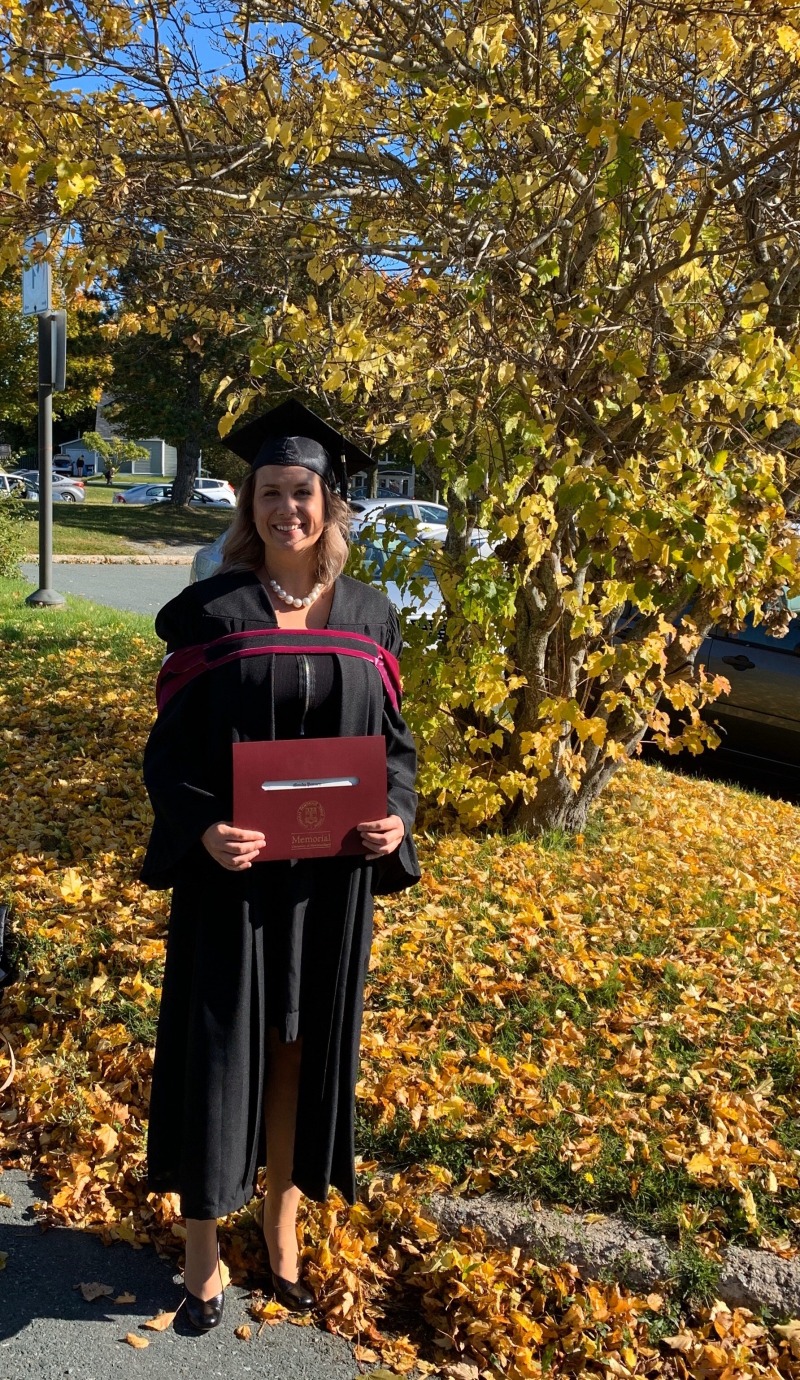 Inspired by Labrador
Ms. Mandy Penney, from Clarenville, received her master of social work (MSW) degree during Memorial's fall convocation. She was also named a Fellow of the School of Graduate Studies for 2019. One of a few students who chose to complete the MSW program full-time in one year, Ms. Penney completed an all-encompassing audit of the legislation around customary and traditional Indigenous adoption in all 10 provinces and three territories in Canada during her program.
Inspiration
After earning her bachelor of social work (BSW) in 2012, Ms. Penney worked at the Association for New Canadians (ANC) in St. John's, as a settlement worker in schools with refugee youth. She subsequently taught English as a Second Language in South Korea, then returned home to become manager of the settlement social work department at ANC, during which time she was also a field instructor with the School of Social Work, mentoring BSW students. Ms. Penney then went on to work in every region across the province, including Natuashish and Sheshatshiu in Labrador, while employed as a registered social worker with the provincial Department of Children, Seniors and Social Development. It was her time in Labrador, she says, coupled with her experiences working with newcomers to Canada that inspired her to complete the master of social work program. She wanted to focus on issues facing racialized persons, Indigenous communities and whiteness.
Research focus
Pathway is the component of the MSW program that requires students to work on a project for the duration of their program, to produce a scholarly product such as a comprehensive literature review, a training manual or a research report. Ms. Penney chose to research customary and traditional adoption for Indigenous children and youth across the country from a legislative perspective. She delved into issues including how Indigenous children's and youth's rights were defined and represented in adoption legislation, with the goal of informing consultation processes for the upcoming review of the Adoptions Act in Newfoundland and Labrador (NL). The end result is an audit of the existing legislation around adoptions in all 10 provinces and three territories that Indigenous communities and governments can use to help guide decisions around legislative changes.
Ms. Penney is quick to explain that she is a white settler and that this project was undertaken from this perspective, with the understanding that there is much reconciliatory work to be done to support Indigenous communities.
"This project is the legwork, the research into what exists across the country, but it will now be in the hands of Indigenous communities and government to carry on the next steps as they see fit, to see what the practical considerations for NL may be, for instance."
Support for full-time studies
Associate professor Dr. Delores Mullings, and Dr. Ross Klein, interim dean, professor, and Ms. Penney's MSW supervisor, were very impactful on her program, she said.
"Dr. Mullings made the coursework really interesting, especially with her commitment to decolonizing the classroom. It was a unique experience. I really got a feel for the mutual reciprocity of teaching and learning. Dr. Klein was very hands-on, yet his guidance was subtle. He was skilled at taking a broad-scale idea, such as I had with this adoption project, and helping to make it workable for me to take on."
"Also, MSW student services co-ordinator Ms. Ivy Burt, advised what was expected of you as a student in the program, while being extremely supportive."
The School of Social Work really supported Ms. Penney doing the program full-time, she adds.
"I worked at the school in various capacities during my MSW program, which afforded me the opportunity to really be a part of the university while completing my program."
Ms. Penney is the proud recipient of the Wesley and Jeanne Drodge Award in Public Policy, which is awarded annually to a full-time student in their graduating year in the master of social work program who demonstrates the value of collaborative engagement with other health and social science student(s) in the advancement of public policy by presenting at health or social work conferences. Ms. Penney presented to senior policy makers in the NL government.
Completing the program also inspired Ms. Penney to become more engaged in community, and in the past year she volunteered as campaign manager in the provincial election and she is the special events coordinator for the MerB'ys 2020 project.
"I had a really positive experience in the MSW program. I would encourage any student who is considering it to apply. I hope I have offered a meaningful contribution, out of the year of research and compilation that I undertook."