From hairdressing to social work
Apr 1st, 2019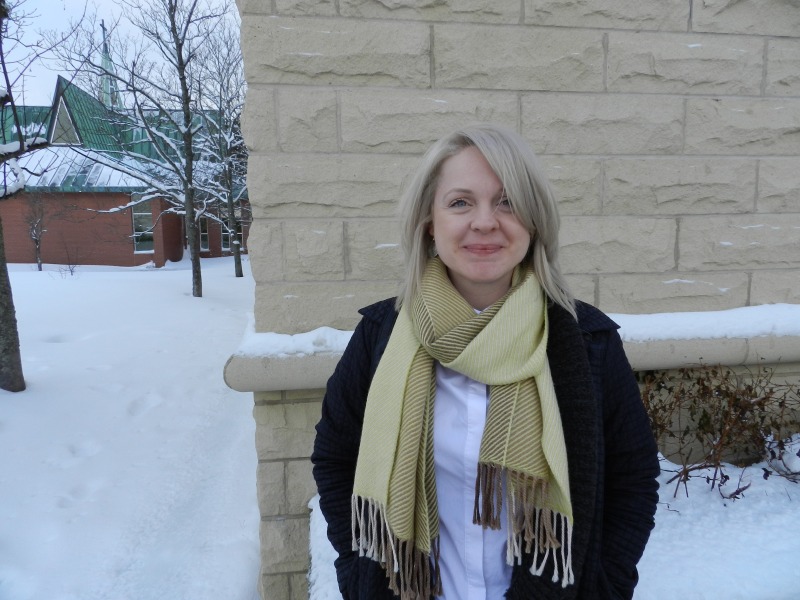 From hairdressing to social work
Master of social work (MSW) student Amanda Duke was a hairdresser in Vancouver, B.C., which she enjoyed and found meaningful, but she wanted to focus more on something in the social services arena.
Ms. Duke's parents had owned a salon, so it was something she grew up with. She felt she had transferable skills from her years as a stylist. She believed she could take those skills and enhance them in the social work environment, combining them with her desire to contribute to social justice and social change.
"There's so much experience learning how to be with people," she said. "You build relationships and spend your whole day with people [as a stylist]."
While working towards a diploma in women's studies, she began volunteering at the Battered Women's Support Services and was a Big Sister. During this time, while continuing her work as a stylist, she was also active in social movements in Vancouver. These experiences strengthened her desire to learn more about what social work had to offer.
In 2015, Ms. Duke received her bachelor of social work degree from the University of British Columbia. She worked as a family development worker for Cedar Cottage Neighbourhood house, then at Big Brothers of Greater Vancouver.
After 12 years of living away, Ms. Duke wanted to return home to Newfoundland. Upon her return, she worked as coordinator of youth development at Thrive, one of the local Community Youth Networks that were established to provide services and support to resilient youth aged 12-18, who live in poverty and have limited access to mainstream programs and services. It's hard to explain, she said, but she found her skills as a stylist were a particular asset working with youth.
"Perhaps it's the creativeness of it or the connection to current times or pop culture, but there's something about it that lent itself well to working with youth."
Wishing to further her education, Ms. Duke was particularly interested in Memorial's MSW program, since it offered the chance to study online, as well as other opportunities. Looking for ways to further connect with the School of Social Work, to complement her online studies, she didn't have to look far, she said.
"I've had so many amazing opportunities to stay connected to the school since I started the program."
Ms. Duke is a teaching assistant and she works part time with the school's Field Education Team, as well as being a field instructor for the school's bachelor of social work (BSW) students at Thrive and Daffodil Place.
Each BSW student is involved in two field practicum experiences during their program, typically one in a rural area and one in an urban setting. Guided by a mentor, or field instructor, these placements give students the opportunity to achieve understanding of the relevance of theory to practice and develop competence in using values, knowledge and skills at agencies and organizations in the field.
She said it is fascinating to work with these students – people who are learning social work skills on-the-job for the first time.
"Their growth and development over a single semester is incredible," she said.
Ms. Duke's Pathway project is also on field instruction. Pathway is the component of the MSW program that requires students to work on a project for the duration of their program, to produce a scholarly product such as, but not limited to, a comprehensive literature review, a training manual or a research report.
This summer, Ms. Duke is looking forward to her practicum that she will be doing in policy with the provincial Department of Health and Community Services.
Ms. Duke feels her years in non-profit organizations provided excellent front-line experience. That, she believes, coupled with her skill set from years of being a stylist, along with what she's learning in the MSW program and as a field instructor, will all serve her well as she ventures into the wider social work field.
"I am grateful for the opportunities that enhanced my experience of the MSW program. There were more opportunities than I imagined. I think that speaks to the wonderful learning community here at Memorial."
Set to graduate in 2019, Ms. Duke said she'd like to explore options outside of the NGO realm – perhaps something like policy creation in a hospital setting.
As she progresses in her social work studies and career, Ms. Duke feels increasingly sure of the parallels between the skills she used every day as a stylist and those required of her roles in the social work realm.
"The interpersonal piece, the relationship-building piece – there are so many parallels for me as an individual that align with my desire to work towards social change."