Exchange 2020 Conference
Feb 26th, 2020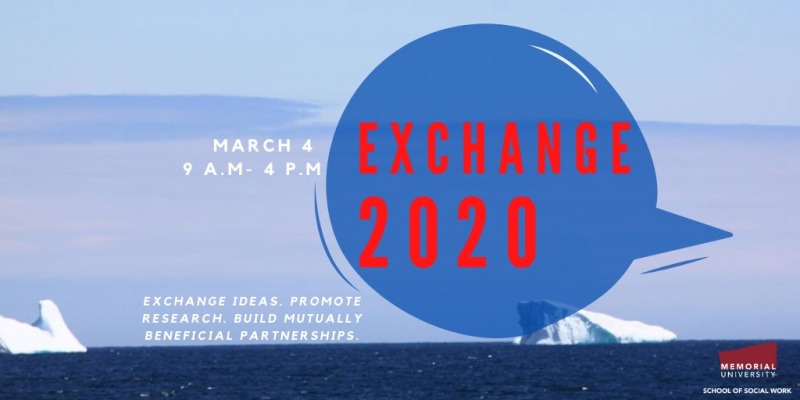 Exchange 2020 Conference
Universities are in the business of doing research and community organizations typically do not have a lot of research capacity. Many community organizations are in need of different types of research to enhance their programming and to be able to apply for funding. This reality creates opportunities for partnerships that benefit both the university and community organizations.
Rather than solely being approached to help conduct research on topics the organizations do not necessarily have a say in, Dr. Stephen Ellenbogen, associate professor with Memorial's School of Social Work, initiated a program that helps community organizations explore their own research needs and take leadership roles in research partnerships.
These partnerships are highlighted in Exchange 2020, a full-day conference on March 4, 2020, bringing together bachelor of social work (BSW) students, community organizers, graduate students and scholars in the field of social work to share the research projects they've worked on. The afternoon session of Exchange 2020 will focus on how different universities are engaging with community groups to create mutually beneficial partnerships.
Community Service Learning
Dr. Ellenbogen, along with social work faculty members Dr. Julia Janes and Dr. Paul Issahaku, have been utilizing an innovative model of Community Service Learning (CSL) in their classes. CSL is an educational approach that integrates service in the community with intentional learning activities, as members of educational institutions and community organizations work together toward mutually beneficial outcomes.
As part of the main assignment for the Community Development course, BSW students partner with a community organization of their choosing. The community partners assign student groups to research topics around an area of need for the organization (e.g., The Blue Door program asked students to review research relevant to understanding trauma and attachment in sexually exploited youth). The students then summarize research on the assigned topic and reflect upon the implications of research findings to community work practice and policy. Activities are shaped to encourage critical thinking and intentional, facilitated reflection with the aim of helping the students develop as individuals in relation to their values, sense of social responsibility and leadership capacities. Students then write research reports and present their findings to the organization.
Dr. Ellenbogen's original intent when designing the course was to build the capacity of community organizations to access research knowledge and translate it into practice.
"I was a community worker myself at one point and I know there is never enough time to do research," said Dr. Ellenbogen.
Scaling Up Student Assignments
This assignment worked out so well that Dr. Ellenbogen sought out grants to broaden the scope of the students' projects. With funding from the Accelerator Grant Program of Memorial's Office of Public Engagement, BSW student teams scaled up their assignments in collaboration with graduate student mentors and community partners. Together, they engaged in multiple editing iterations of their research review papers in an effort to improve quality, rigour and scope, and further reflect upon the relevance of research findings to social policy and practice.
To help sustain this productive program of learning and public engagement, Dr. Ellenbogen, Dr. Janes, and Dr. Sulaimon Giwa successfully gained new funding from Social Sciences and Humanities Research Council Connection Grant, Memorial's Office of Public Engagement Quick Start Fund, and the Memorial University Conference Fund to be able to further scale up projects and present them in Exchange 2020.
A key goal of this program is helping to develop bachelor's students' research capacities.
"By having them take leadership roles in community-based research projects and present their findings at conferences, we help develop the scholars of the future," said Dr. Ellenbogen. "Past participants have gone on to pursue graduate studies, apply for educational scholarships, become research assistants and publish scholarly papers. Past community partners have also benefitted, using the research knowledge gained to improve their services, develop tools for increasing awareness of social causes and refine organizational goals."
The initial conference, Exchange 2018, had an infectious effect. Students who presented papers or simply attended that conference have expressed greater interest in research; a few ended up participating in future projects. They will present on their ongoing activities in the morning session of Exchange 2020.
The afternoon session of the conference will highlight the public engagement, knowledge mobilization and CSL experiences of scholars from McGill University, Yukon College and Memorial. This will be of particular interest to staff, faculty and administration at Memorial.
Exchange 2020 is open to the general public, community organizations and all Memorial students, staff and faculty on March 4 in the Junior Common Room, R. Gushue Hall from 9 a.m.- 4 p.m. RSVP to Keith Power (kbp201@mun.ca) to register. Space is limited.