Changes coming to Microsoft Office on personal devices
Apr 27th, 2022
ITS updated Memorial's Microsoft environment during May 3 – 4, 2022 and anyone who has downloaded Microsoft Office on their personal device will be required to complete the following:
N.B.: This does not apply to a Memorial managed and owned device. These steps only apply to users who have downloaded and installed Microsoft Office on their personal devices.
Set up your Microsoft 365 sign-in for multi-factor authentication prior to doing the steps below.
Windows
2. In any Office app, select the File menu and then select Account near the bottom of the menu.
3. Under Product Information, select the Change License button.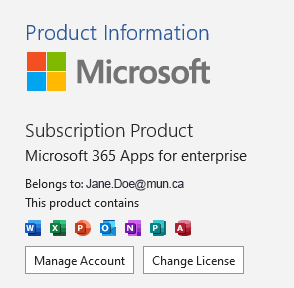 If there is no Change License button, you may need to install Office updates.
If necessary, sign in using your MUN Login (@mun.ca) account.
After you sign in select Next to continue, Office picks the license automatically and begins the update process.
Close all Office apps to finish the process.
MacOS
From any Office app, sign out and sign in using your MUN Login (@mun.ca) account.
If you have any problems or if you have questions, please contact the IT Service Desk at 864-4595, help@mun.ca or chat support at https://www.mun.ca/cio/support/.