James Williamson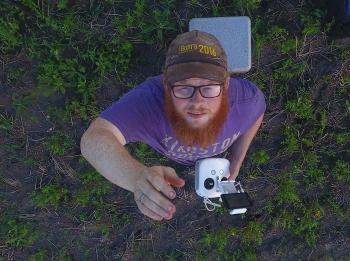 Previous Education
B.A., Archaeology and Palaeoecology, Queens University Belfast.
M.A., Archaeology, Lund University.
Supervisor
Dr Lisa Rankin / Dr. Peter Whitridge
Keywords
Beothuk, Settlement Patterns, Geographical Information Systems, Photogrammetry, Unmanned Aerial Vehicles, Predictive Modelling.
Research Statement
My research focus is on the changing shape of Beothuk House-pits, and the increased indigenous population in the Exploits River Valley between 1760 and 1829 AD. My aim is to map areas within this valley using a drone and analyzing these sites using Geographical Information Systems with a novel workflow for recognizing archaeological sites under tree cover. This workflow will be shared as a tool for other users of open source GIS. Additionally, I will carry out a program of recording house-pits in order to analyze the morphological changes during this period. This will enable me to answer questions about the changing population dynamics within this area and the cultural changes that took place.
I will also be looking at methods for geospatial analysis within archaeology, the use of drones for surveying, and predictive modelling.
Contact
Email: jswilliamson@mun.ca