Alumnae memory donation enhances learning opportunities at the School of Nursing
Classmates and colleagues joined the family of Donna Howell on April 12,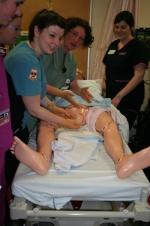 2010 to celebrate a special donation made in her honour to the School of Nursing. Donna's fellow alumnae from the class of 1978 recently raised the funds to purchase a mobile technology cart for the touch-screen monitors and computer that accompanies "Noelle", the female maternity patient simulator at the school's Learning Resource Centre.
Donna Howell, who passed away in the fall of 2009, was a maternity nurse for almost 30 years. Her classmates felt it was only appropriate that their gifts go towards helping educate new nursing students in maternity techniques.
"Donna was an incredible woman and a true bedside nurse," said Donna Hutchens , one of Donna Howell's classmates who helped organize the initiative. "We started nursing together years ago in Labour and Delivery at the Grace."
Brenda Oldford, a nursing clinical instructor at the Learning Resource Centre, outlined how the mobile technology cart will enhance learning opportunities for students at the school. "Now we can monitor Noelle's maternal and neonatal vital signs anywhere and for any size of audience," she said.
Ms. Oldford enraptured those in attendance by demonstrating the full capabilities of the patient simulator. Assisted by Donna Hutchens, Ms. Oldford delivered Noelle's simulated baby boy while guests and family members looked on.
Mr. Darcy McMeekin, development officer for the school, gave special thanks to the Howell and Crewe families "for allowing us to share Donna's memory with the next generation of nurses. "
"We will be attaching a plaque to the cart in Donna's memory, as a reminder that we care for and remember our students in every stage of their life."
By Jenn Deon