Timothy Steeves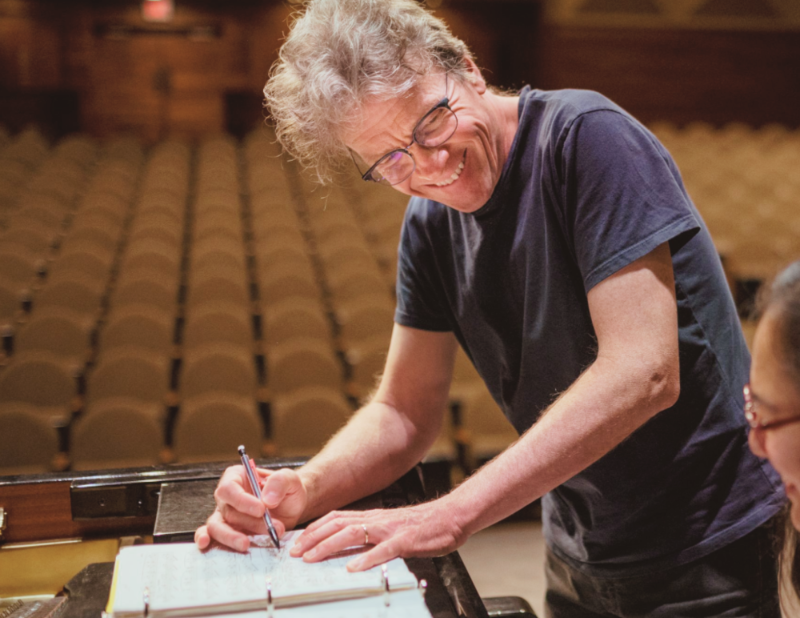 John Lewis Paton Distinguished Professor (F.R.S.C.)
University Research Professor
Piano
B. Mus. (Western)
Diplom-Musiker (Hanover, Germany)
Künstlerische Reifeprüfung (Freiburg im Breisgau, Germany)
Solistenexamen (Freiburg im Breisgau, Germany)
tsteeves@mun.ca
Room: MU-2014
864-2476
www.duoconcertante.com
Canadian pianist Timothy Steeves is widely known as one half of Duo Concertante, with his wife, violinist Nancy Dahn. Known for the passion, subtlety, and brilliance of their performances, Duo Concertante have worked together since 1997, developing the exceptionally unified voice that has repeatedly impressed audiences worldwide. Critics have described their playing as "grace and fire… fury and repose… a triumphant mass of non-stop energy" (WholeNote), "Splendid… a miracle of knowledge and poetry" (Gramophone),"spectacular" (American Record Guide) and have praised their "artistry, poetry, and impeccable technique" (La Scena Musicale). Of a recent Germany tour the Rheinische Post wrote: "Duo Concertante impresses with their technical brilliance, but their musicality is even more special."
Tim released a solo CD of Haydn sonatas in 2015 on the Marquis Classics label and with Duo Concertante has created thirteen acclaimed commercial recordings on the ATMA, Marquis Classics, and Centrediscs labels. These include the complete Beethoven Sonatas and J.S. Bach Six Sonatas for Violin and Keyboard which are frequently heard on CBC. Of the Beethoven CD, Music Toronto's John Terauds wrote, "these beautiful interpretations are so good right down to the tiniest of details that they deserve to be called a reference in the contemporary performance of these 10 great pieces." The Wiener Zeitung (Vienna) called it "majesty, passion, and excitement – inspiring!" The Duo's disc Wild Bird won a JUNO award for Murray Schafer's Duo for Violin and Piano in 2011 (Classical Composition of the Year category), and Duo Concertante also won the East Coast Music Award for Classical Recording of the Year in 2017, 2018 and 2019. Their Franz Schubert: Music for Violin and Piano was selected by CBC Music as one of "Canada's Top 20 Classical Albums of 2020."
Timothy's 2022 album, Ecology of Being, features music inspired by the climate emergency written especially for Duo Concertante. Praised as "a powerful and deeply moving album performed with world-class expressiveness and musicality "(WholeNote), the music of Ecology of Being also spurred a new interest in combining music and film. Melissa Hui's "Ecology of Being", for example, became a 21-minute film directed by Nicola Hawkins, and won Best Experimental Film and Best Original Score at the 2020 IndieX Filmfest (Los Angeles). Their 2022 film "End of the Line" (with music by Jessie Montgomery and part of a larger film project called SOLACE) was an award winner at the Los Angeles Women's Independent Film Festival.
With the Duo, Tim has commissioned a total of sixty-nine new works and original arrangements for violin and piano from many of Canada's leading composers, such as Chan Ka Nin, Clifford Crawley, R. Murray Schafer, Kati Agócs, Andrew Staniland, Kelly-Marie Murphy, Alice Ho, Omar Daniel, Clark Ross, Andrew MacDonald, David Scott, Linda Bouchard, and Jean Lesage. His tenth recording, Incarnation, released in 2017 featured works written especially for them by Jocelyn Morlock, Denis Gougeon, Alice Ho, Chan Ka Nin and Andrew Staniland, and was picked by CBC as one of the ten best recordings of the year.
Tim maintains a busy touring schedule, with frequent performances across North America, as well as in Europe and China. With Duo Concertante he has appeared at Wigmore Hall (London), Carnegie Hall's Weill Recital Hall (New York), Roy Thomson Hall (Toronto), Old First Church (San Francisco), the Los Angeles County Museum of Art (Los Angeles), the Four Seasons Performing Arts Centre (Toronto), the National Arts Centre (Ottawa), the Forbidden City Concert Hall (Beijing), and the Chapelle du Bon-Pasteur (Montreal). He also performs at music festivals throughout North America, including the Ottawa International Chamber Music Festival, the Cactus Pear Music Festival, Indian River Festival, Colours of Music Festival, Festival of the Sound, Music Toronto, Music Niagara, and the Huntsville Festival.
A highly regarded teacher, Tim has given hundreds of master classes and workshops across Canada. His commitment to working with young musicians gave rise to the annual Tuckamore Chamber Music Festival, which he and Nancy founded in 2000 to bring together young chamber music performers with world-class artists and ensembles for an intensive two weeks of learning and performance. For the past five summers, he has served on the chamber music faculty at Domaine Forget in Quebec.
A native of Saskatoon, Saskatchewan Tim is a graduate of the University of Western Ontario and the academies of Hannover and Freiburg im Breisgau in Germany. In 2016, he was elected a Fellow of the Royal Society of Canada and awarded a University Research Professorship by Memorial University. In 2021, Memorial recognized him for "demonstrating exceptional teaching, undertaking world-class research and sharing his knowledge and expertise widely" with the designation of John Lewis Paton Distinguished Professor.
In addition to his busy career teaching and performing, Tim is also the proud father of children Clara and Sasha and enjoys astronomy and history.
Duo Concertante perform César Franck's Sonata for Violin and Piano.