Beverley Diamond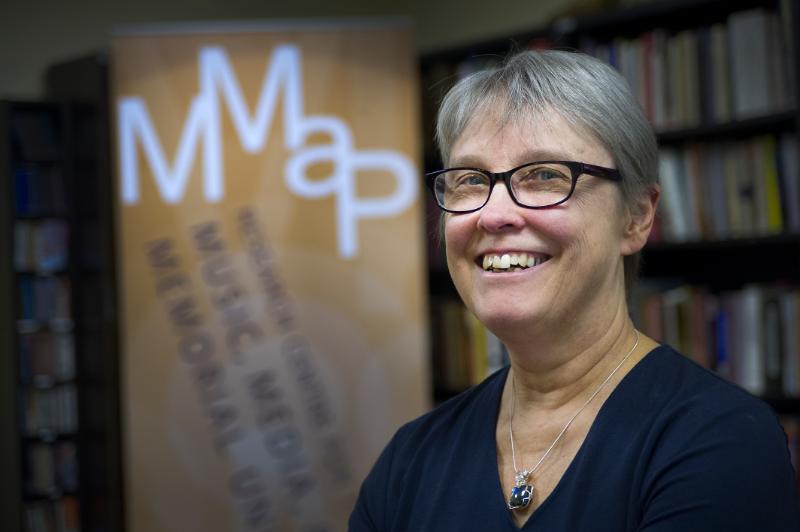 Professor Emeritus
Ethnomusicology
B. Mus. Honours (Toronto)
M.A. (Toronto)
Ph.D. (Toronto)
Beverley Diamond was the first Canada Research Chair in Ethnomusicology at Memorial University of Newfoundland where she established and directed the Research Centre for the Study of Music, Media, and Place (MMaP) from 2003-2015. In collaboration with communities in Newfoundland and Labrador, as well as other parts of Canada, she published the Back on Track CD series that made archival material available together with extensive documentation. She also organized many symposia, concerts and international conferences.
Diamond is known for her research on gender issues, Canadian historiography, and indigenous music cultures. Her research on indigenous music has ranged from studies of traditional Inuit and First Nations song traditions and Saami joik, to indigenous audio recording, traditional protocols for access and ownership, and, most recently, expressive culture in relation to the Truth and Reconciliation Commission on residential schools in Canada. Most recently she co-edited Aboriginal Music in Contemporary Canada. Echoes and Exchanges (McGill-Queen's UP, 2012) which received a Choice Academic Book award. Among her other publications are Native American Music in Eastern North America (OUP, 2008) and Music and Gender (co-edited, U Illinois P, 2000).
Active in the development of ethnomusicology in Canada at Queen's University, York University as well as Memorial University, she has been recognized for moving Canadian music studies in new directions and mentoring a generation of scholars who have greatly expanded the histories of cultural diversity and studies of music's employ in relation to social justice issues. Diamond served as the President of the Society for Ethnomusicology from 2013-15. She was elected to the Royal Society of Canada in 2008, named a Trudeau Fellow (2009-12), and a Member of the Order of Canada (2013). In 2014, she was awarded the Gold Medal by the Social Sciences and Humanities Research Council of Canada, their highest honour in recognition of the quality and imact of her work.
Selected Recent Publications
Books and Edited Collections:
Aboriginal Music in Contemporary Canada. Echoes and Exchanges. (co-edited with Anna Hoefnagels), McGill-Queen's University Press, 2012.
MusiCULTURES (Special Issue on Indigenous Modernities, co-edited with Kati Szego and Heather Sparling). 39/1, 2012.
Native American Music in Eastern North America. Oxford University Press, 2008.
Journal Articles and Book Chapters:
"A Transnational Beothuk Woman in the Early 20th Century." in Fiona Polack, ed. Traces of Ochre: Changing Perspectives on the Beothuk. Toronto: Toronto University Press, in press.
"Resisting Containment: The Long Reach of Song at TRC National Events." In Keavy Martin and Dylan Robinson, eds. Arts of Engagement. Waterloo: Wilfred Laurier University Press. 239-266, 2016.
"Mixing It Up: A Comparative Approach to Sámi Audio Production." In Henry Stobart et al. Music, Indigeneity, Digital Media. Rochester: University of Rochester Press. 2016.
"The Doubleness of Sound in Canada's Indian Residential Schools. In Victoria Levine and Philips Bohlman, eds. This Thing Called Music. Essays in Honor of Bruno Nettl. Lanham: Rowman & Littlefield. 267-79, 2015.
"'Re' Thinking: Revitalization, Return and Reconciliation in Contemporary Indigenous Expressive Culture." Trudeau Lectures, 2010-11. Montreal: Trudeau Foundation of Canada. 118-140, 2012.
"Recent Studies of First Nations, Inuit, and Métis Music in Canada." In Anna Hoefnagels and Beverley Diamond, eds. Aboriginal Music in Contemporary Canada. Echoes and Exchanges. McGill-Queen's University Press, 2012, 1-30..
"Native American Contemporary Music: The Women." In Max Peter Baumann, ed. Readings in Ethnomusicology. (Reprint from The World of Music in a compilation of influential articles from the past decade.) Berlin: Verlag für Wissenschaft und Bildung, 2011.
"Decentring Opera: Early 21st-century Indigenous Production." In Pamela Karantonis and Dylan Robinson, ed. Opera Indigene. Aldershott: Ashgate. 2011, 31-56.
"Music of Modern Indigeneity: From Identity to Alliance Studies." European Meetings in Ethnomusicology. The John Blacking Distinguished Lecture for 2006. 12: 169-190, 2007. Reprinted in Dan Lundberg and Gunnar Ternhag, eds. Yoik. Aspects of Performing, Collecting, Interpreting. Stockholm: Skrifter Utgivna av Avenskt Visarkiv, 2011, 9-36.
"'Allowing the Listener to Fly as They Want to': Sámi Perspectives on Indigenous CD Production in Northern Europe." Worlds of Music, Thematic issueon "Indigenous Peoples, Recording Techniques, and the Recording Industry. Karl Neuenfeldt guest editor. 49/1: 23-49, 2007.
"Local Logics and the Gendering of Music Technology: A Newfoundland Case Study." Intersections: Canadian University Music Review. (Special Issue on Women and Music Technology, guest edited by Andra McCartney). 26/2: 49-62, 2007.
"Reconnecting: University Archives and the Communities of Newfoundland." In Anna Hoefnagels and Gordon E. Smith, eds. Folk Music, Traditional Music, Ethnomusicology. Canadian Perspectives, Past and Present, Newcastle upon Tyne: Cambridge Scholars Press, 3-12, 2007.
"Media as Social Action: Native American Musicians in the Recording Studio," In Paul Greene & Thomas Porcello, eds. Wired for Sound: Engineering and Technology in Sonic Cultures. Hanover: Wesleyan University Press and the University Press of New England, 118-137, 2005.