Brass Day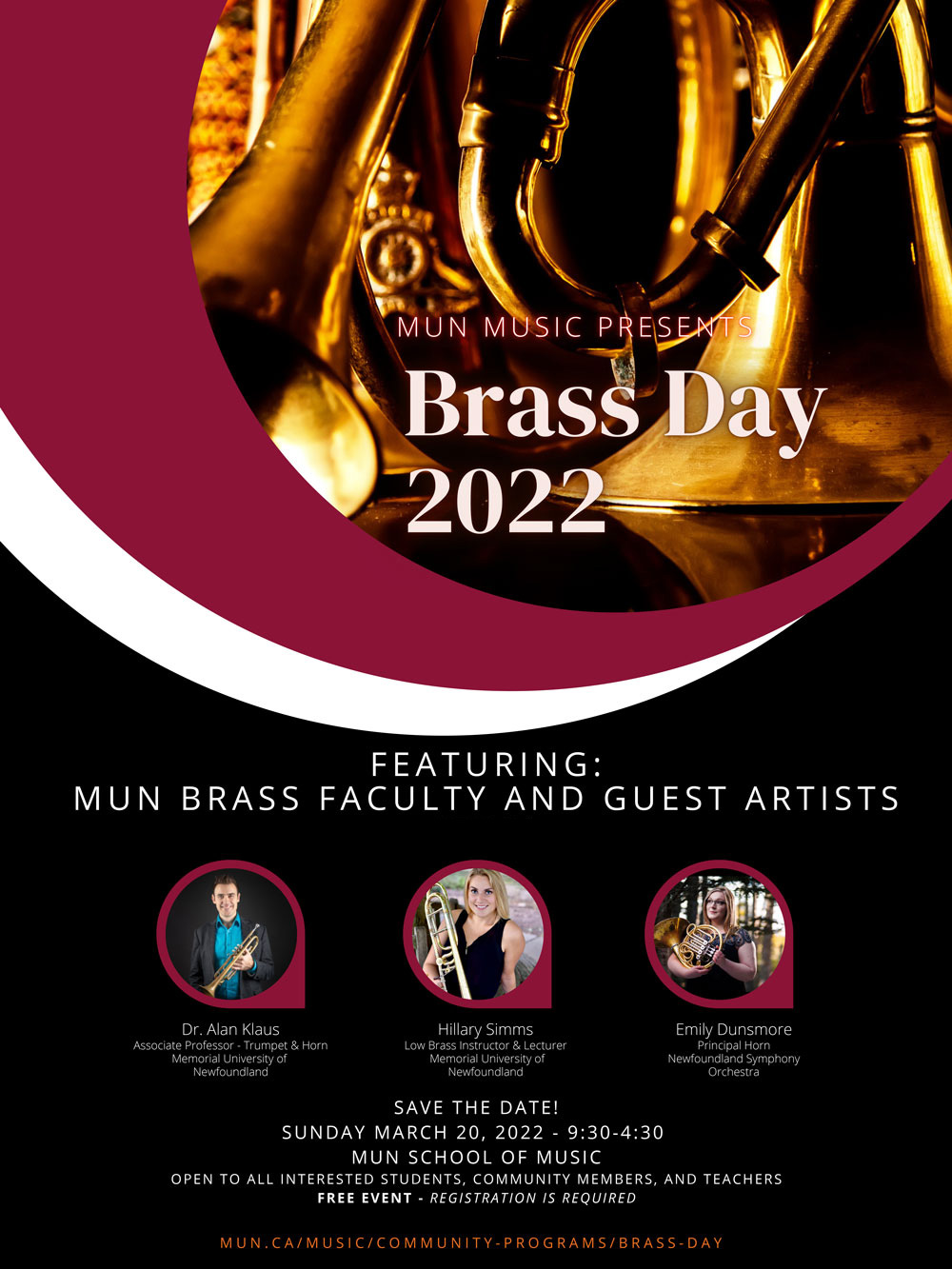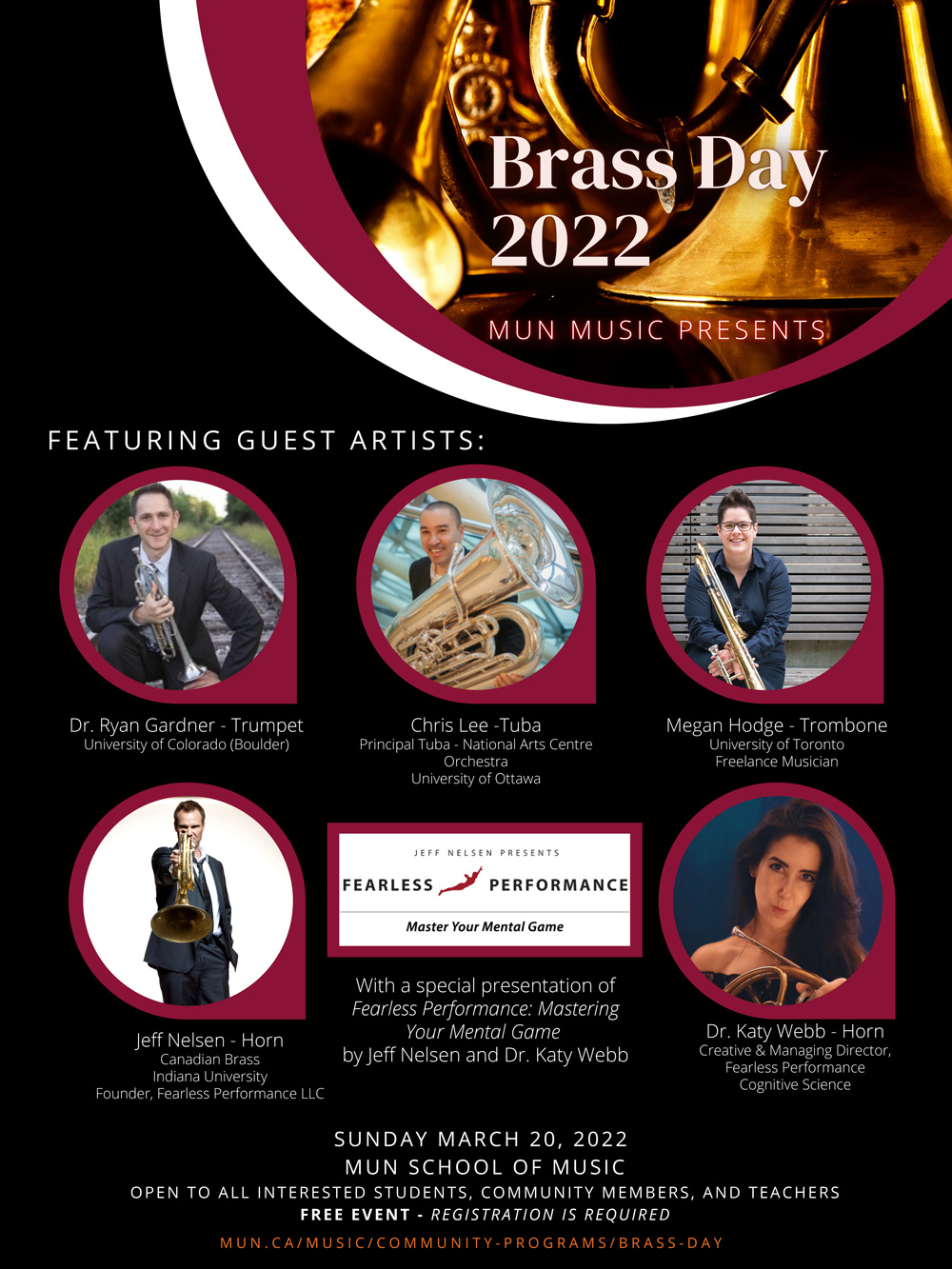 Memorial University School of Music
Sunday, March 20 from 9am to 6:30pm
We are thrilled to announce Brass Day 2022 presented by the Memorial University School of Music. This FREE event will include hybrid online and in-person opportunities to work with world-class guest artists from across North America!
Events will include a Fearless Performance keynote workshop, a warmup session, fundamentals workshops, masterclasses, discussions, and a recital featuring performances from our Guest Artists, Brass Day faculty, and a combined work performed by all in-person participants.
About Fearless Performance Workshop:
Over the past 25 years, Fearless Performance has trained musicians to win professional auditions for jobs in orchestras like the Chicago Symphony and Cleveland Orchestra, business people perfect their marketing pitches, speakers prepare for TedX stages, kids nail their show-and-tell performances and more. Got a performance of any kind?? We're in!
Master your mental game! Fearless Performance is a method for shortening your learning curve and mastering the mental process of performance.
Links
Guest Artists
Jeff Nelsen, Horn
Canadian Brass, world-renowned soloist, chamber and orchestral musician
Indiana University
Founder, Fearless Performance LLC
Dr. Katy Webb, Horn
Creative and managing director, Fearless Performance LLC
Chris Lee, Tuba
Principal tuba, National Arts Centre Orchestra
University of Ottawa
Megan Hodge, Trombone
University of Toronto
Freelance Musician
Dr. Ryan Gardner, Trumpet
University of Colorado (Boulder)
An incredible trumpet pedagogue! Listen to some of his 2021 students on YouTube here.
MUN Brass Day Faculty Artists
Dr. Alan Klaus, Trumpet
Associate Professor, High Brass
Hillary Simms, Trombone
Lecturer, Low Brass
Emily Dunsmore, Horn
Principal Horn of the Newfoundland Symphony Orchestra
MUN MMus Performance/Pedagogy (April 2022)
Contact
Dr. Alan Klaus: Aklaus@mun.ca
Prof. Hillary Simms: Hillary.simms@mun.ca
FAQ
What levels of players are welcome at the Brass Day?
All levels! If you play or teach any brass instrument, this day will have something for you.
I'm an adult player. Is this day just for kids?
Not at all! The workshop sessions are targeted to different levels of development, and more experienced and mature musicians are definitely welcome. The guest artist classes will be inspiring even for professional musicians!
How will my child be supervised at Brass Day?
While in workshops and rehearsals your child will be under the supervision of the workshop leader. At lunch and on nutrition breaks we will be monitoring participants, but we will not be providing continuous supervision. If you have concerns about your child's participation in the day, consider attending all or part of it with your child.
Will food be provided?
No. Participants should bring their own lunch and an afternoon snack. There is a water bottle filling station in the School of Music. There are almost no food services available on the Memorial campus on Sundays, so a packed lunch is really the way to go.
Allergy Alert!
Please do not pack nuts in lunches or snacks, as there are some individuals with serious allergies to tree nuts. Please also refrain from wearing scented products (including hand creams, shampoos and other personal grooming products) into the School. Memorial is a scent-free campus.