Staniland named to Royal Society of Canada College
Sep 22nd, 2014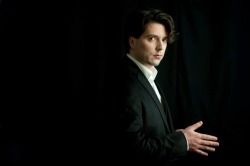 Staniland named to Royal Society of Canada College
Membership in the Royal Society is considered one of the highest honours for an academic in Canada. Recently, the Society established a College of New Scholars, Artists and Scientists, Canada's first national system of multidisciplinary recognition for the emerging generation of Canada's intellectual leadership. The School of Music is proud to announce that Dr. Andrew Staniland is one of two Memorial professors to receive this signal honour. The other is Dr. Sean McGrath of the Dept. of Philosophy.
Dr. Andrew Staniland is recognized as one of Canada's leading classical music composers. His research is on the very edge of innovation in modern classical music, blending the traditional craft of musical composition, the legacy of Mozart and Beethoven, with the new and innovative digital media of the Twenty-first Century. His music, described by Alex Ross in the New Yorker magazine as "alternately beautiful and terrifying", is regularly broadcast on CBC Radio 2 and has been aired and performed internationally in over thirty-five countries. Dr. Staniland's work has received many important accolades, including the 2009 National Grand Prize in EVOLUTION presented by CBC Radio 2/Espace Musique and The Banff Centre, and seven prizes in the SOCAN young composers competition. Dr. Staniland has held prestigious positions as Affiliate Composer to the Toronto Symphony Orchestra (2006-09) and the National Arts Centre Orchestra (2002–04), and has also been in residence at the Centre du Creation Musicale Iannis Xenakis (Paris, 2005). His music is commissioned by top tier contemporary musicians including the Gryphon Trio, Les Percussions de Strasbourg, the Toronto Symphony, and American Opera Projects. In 2010 Dr. Staniland joined the School of Music faculty at Memorial University as an assistant professor. He promptly founded MEARL (Memorial ElectroAcoustic Research Lab), a state-of-the-art music technology research facility that is a staging ground for Dr. Staniland's research in creative music composition and new instrument design and a hub for interdisciplinary innovation in music.
Dr. Staniland is one of the most in-demand composers in Canada, garnering commissions from some of the world's best known classical ensembles, including commissions from international performers in the USA, Netherlands, and France. The demand for new works through commissions, whether from distinguished music ensembles or through the Canada Council for the Arts, is one of the most important hallmarks of success for a composer. One might reasonably expect a composer employed by a university to produce two major compositions a year. Since his appointment at Memorial University, only three years ago, Dr. Staniland has completed an impressive sixteen commissioned compositions, and has received twelve new commissions. Being prolific and in demand, however, is just the complement to a strong trajectory of compositional excellence. The impact of Dr. Staniland's creative research, in the form of new pieces of contemporary classical music, has been consistently rated as exceptional in both quality and quantity by both professional music critics and in peer-reviewed competitions. Since 2010 his work has received considerable exposure resulting in well over eighty national and international performances and broadcasts, and has been the subject of over sixty-five public press reviews and citations in Canada and the USA, including high profile reviews in the Globe and Mail. In 2014, Dr. Staniland entered a formal recording agreement with the prestigious Naxos Canadian Classics record label, which is releasing the first disc of an all-Staniland recording in fall 2014. This will significantly expand the international reach and accessibility of Dr. Staniland's innovative music.
Dr. Staniland's artistic accomplishments are well-demonstrated in two recent large-scale musical compositions: Four Angels and Dark Star Requiem. Four Angels is an original work for full orchestra and live electronics that was premiered at the prestigious and international New Creations Festival in Toronto on March 2013. It was commissioned by the Toronto Symphony Orchestra, through a commission grant from the Canada Council for the Arts, which involves a highly competitive peer-reviewed selection process. The festival was curated by Tod Machover from MIT, one of the world's most important figures in music technology. Four Angels was premiered to critical acclaim, and represents an ambitious artistic achievement, innovatively blending the old-world craft of classical orchestration with new-world technology in the form of live interactive electronic music.
Dark Star Requiem is an ambitious and politically-charged eighty-minute composition for four singers, piano trio, percussion and chorus co-commissioned by Luminato, Tapestry New Opera, the Ontario Arts Council, and the University of Toronto at Scarborough. It was premiered at Toronto's Luminato Festival in 2010. The texts from Dark Star Requiem, written by poet Jill Battson, deal extensively with HIV AIDS in a variety of contexts, from personal to cultural to scientific. This is a truly remarkable work in its scope and impact, opening a major International Festival and winning critical praise as a powerful and deftly-written world-class composition. The premiere performance has been broadcast several times in its entirety on CBC Radio 2 – a rare and notable occurrence for such a large work.
Dr. Staniland's compositional language is at once adventurous and truly musical. His works have a visceral impact, addressing important social themes and artistic ideas with heart and uncompromising integrity. His is a crucial voice for our times.
In addition to his activities as a composer, Dr Staniland is thoroughly engaged as principal researcher in the development of the Arc, a digital musical instrument that is designed to translate the movement of a musician's hands and fingers into laptop-generated musical sound. What is most unique about the Arc is that, unlike laptops and DJ equipment, it is an instrument that is built for the stage. It shows the audience a clear and intuitive cause-and-effect relationship between an electronic musician's movement and the resulting sound. The Arc was the successful result of funding from a Newfoundland and Labrador Research and Development Corporation (RDC) Grant: MEARL: Performance Interface Solutions ($100,000) in 2010. This was a rare investment in a creative artist from the RDC, which normally funds industrial research.