Meet the Majors - Comprehensive Major - Jamie Moran
Feb 8th, 2022
All students in the Bachelor of Music program declare a major in the second year of their undergraduate degree. To help students decide which major or minor is right for them, we are profiling faculty, current students, and alumni of programs offered at Memorial University's School of Music! Whether you are a current student or thinking of applying, we hope these interviews help you gain insight into the range of programs that the School of Music has to offer. Visit this page to view a list of all of the majors and minors currently available for students.
A Comprehensive major is recommended for students planning to apply for admission to the Bachelor of Music Education as a Second Degree. The Bachelor of Music Education (Second Degree) is administered by the Faculty of Education. Please see the Faculty of Education website here to find out the pre-requisite requirements for this program.
We interviewed Jamie Moran, who recently graduated with a B.Mus. degree and is currently working towards a Bachelor of Music Education degree with the Faculty of Education.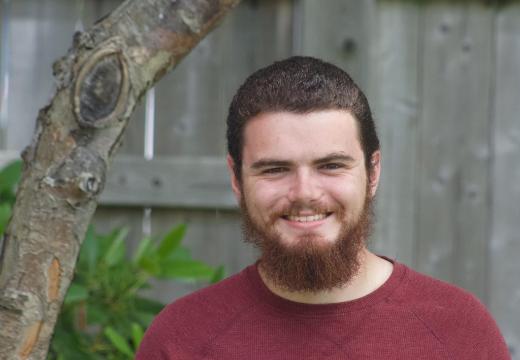 Jamie Moran is a B. Mus. (Honours) '21 graduate from Memorial University's School of Music, currently studying towards a B.Mus. Ed. As a Second Degree. He is from Pouch Cove, NL, and his career goal is to be a successful musician and teacher.
Music at Memorial: When did you first become interested in music?
Jamie: I've been involved since a very young age- I went through Music for Young Children playing piano at two years old. When I was six, I started learning guitar and listening to Dad's Elvis records. We got the DVD of his '68 come back special and remember seeing Elvis and said "I wanna do that!" When it came to percussion, I started teaching myself around age 10 or 11. I then decided to do percussion in concert and jazz band in grade 8!
Music at Memorial: What are your career goals?
Jamie: Once I finish MUS ED, I would like to be working full time with a healthy balance of teaching and playing. As of right now, I am teaching privately, playing percussion for dance studio east and playing with NSO. I would eventually like to get into some session work too! Recently, I have been working on some music and have folk song arrangements coming out soon. There is this old wives tale that you can't do both teaching and performing, but MUN has taught me to be very versatile and flexible. I have become a better musician and open my mind to new concepts.
Music at Memorial: Why Music Education as a Second Degree at Memorial? After you finish a Bachelor of Music, what does the Music Education program look like?
Jamie: A lot of people are drawn to the Music Education program at MUN because we have some world class profs who are super knowledgeable! It is well known throughout Canada that MUN has one of the best MUS ED programs in the country. This program gives you a preview of different areas you can teach, and I think that overall, it is very well rounded which makes people drawn to it. We have students from Ontario, British Columbia, New Brunswick, Nova Scotia and Quebec!
The program itself is designed to be a year and a half including your internship. They are two full-time semesters. One of the courses is Lab Band where all of the students go through method camps. These are helpful for the people who come from away and give them a chance to learn the instruments! Lab band is a ten-week program, where each MUS ED student is teaching the same instrument for five weeks to a group of kids. Then, we come back after the break and teach a different instrument for the other five weeks. After you learn skills in this program you have kids in front of you and the opportunity to have a great firsthand experience.
Music at Memorial: Do you have any advice for Bachelor of Music students looking to become comprehensive majors?
Jamie: Be open to making mistakes and trying new things. It is very easy to develop a perfectionist mindset, but it is very important to approach teaching and learning with a growth mindset. Instead of freezing when you make a mistake or something you try doesn't go as planned, turn the negative into a positive and think about what you can learn from that experience. I've discovered that stepping outside of your comfort zone is where you learn a lot more about not only music, being a musician, and teaching, but also about yourself as a human being. There's a reason it's called the comfort zone! It will be uncomfortable, but you can turn it into a positive learning experience!!
- Interview conducted by Music at Memorial's Digital Marketing Intern, Sarah Knight.