Meet the Majors - Comprehensive - Vanessa Legge
Mar 11th, 2022
In our Meet the Majors series, we are profiling current students and alumni of programs offered at Memorial University's School of Music! Whether you are a current student or thinking of applying, we hope these interviews help you gain insight into the range of programs that the School of Music has to offer. Visit this page to view a list of all of the majors and minors currently available for students.
A Comprehensive major is recommended for students planning to apply for admission to the Bachelor of Music Education as a Second Degree. The Bachelor of Music Education (Second Degree) is administered by the Faculty of Education. Please see the Faculty of Education website here to find out the pre-requisite requirements for this program.
Meet B.Mus. and B.Mus.Ed. alumna Vanessa Legge!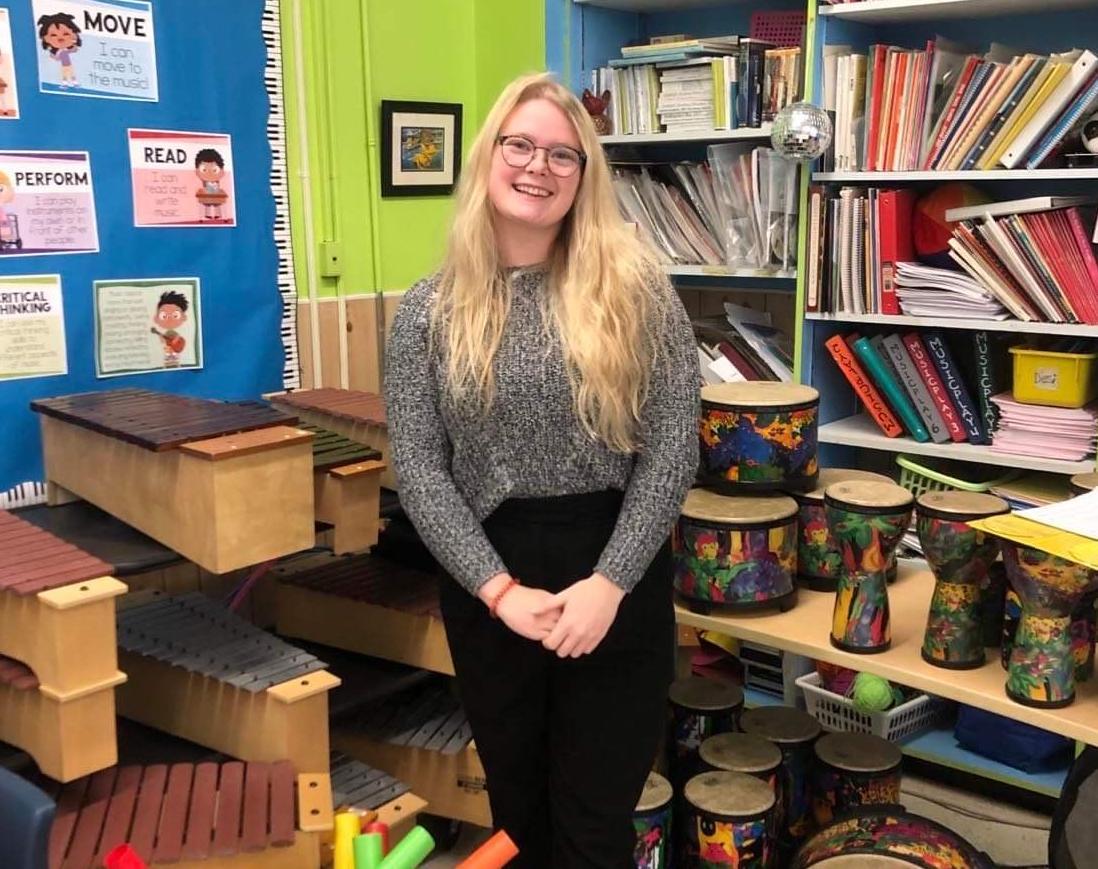 Vanessa Legge is from St. John's, NL and currently teaching Music, Art and French at Bay d'Espoir Academy in St. Albans, NL. A Memorial University graduate, she has a Bachelor of Music (B.Mus. 2020) and a Bachelor of Music Education (B.Mus.Ed 2021). Vanessa hopes to create a safe, welcoming and inclusive classroom for all of her students; teaching the importance of musical and artistic expression for the overall development and wellness of students.
Music at Memorial: When did you first become interested in music?
Vanessa: I was in Music for Young Children and went with my parents every Saturday morning. I also did piano lessons and grew up in the Salvation Army, going to band on Sunday and weekday evenings. When I was five, I was in the Singing Company (the children's choir in the church). Now, I am in the Songster's church choir as an adult. Music is about connections, the people around you and being a part of a community.
Music at Memorial: What are your career goals?
Vanessa: I am really passionate about younger kids and how music can be so beneficial in creating a healthy lifestyle and creating a well-rounded human being. My goals as a teacher are to create a safe, welcoming and encouraging environment for my students. I really bring elements of mindfulness and growth mindset into my classroom as much as I can. I want to make my students feel loved and show them a love for music. Music is not just notes on a page, it is everything we feel, it is the vibe, as my high schoolers say!
Music at Memorial: Why Music Education as a Second Degree at Memorial?
Vanessa: Lots of reasons! First off, I had a feeling I wanted to stay here. I love Newfoundland and always have. Before I even started the program, I knew how passionate Ki, Andrea, David, Kathy and Karri are about this program. All of my professors care so much. You are not going to find a university and group of music education professors with a bigger heart than our faculty.
They have first-hand experience; they have done the research and have the biggest hearts. We have small class sizes, one-on-one instruction and a great community.
Even though my entire degree was online, they adapted with us and showed us exactly what it is to be an educator. It was cool to see firsthand from people that have taught this course in-person for years, say, "Okay. I'm learning with you- let's do it online and figure it out." Now, I am extremely prepared for online learning and know what it's like to be the student and the teacher. Online learning gave me a lot of new tools for assessments and educating.
Music at Memorial: What does the Music Education program look like at Memorial?
My experience is super niche because I was online! Our classes were:
Seminar with Dr. Andrea Rose
Vocal and Choral Methods with David Buley - How you get movement in the body and make music a whole body experience.
Orientation to Music Education. - Ki Adams taught what it is to be a teacher and educator. All of the readings were so helpful, and we read the most incredible book!
Online learning, curriculum packages, CDLI (Centre for Distance Learning and Innovation) and orchestra/band methodologies with Kathy Bennett.
Lab band was very successful! I was in a different situation than others with having Comprehensive as I had taken quite a few of the technique courses already. The teachers were very accommodating, and I do feel confidents teaching any of the instruments we learned.
Music at Memorial: Do you have any advice for Bachelor of Music students looking to become comprehensive majors?
Vanessa: Be ready to learn for the rest of your life. Teaching is a lifelong learning endeavor. The kids will teach you so much. Be patient.
Collaborate and reach out to other teachers.
Open mind and be read to learn!
Remember that you're not just teaching music you're teaching the kids. They need you and music is a great support.
- Interview conducted by Music at Memorial's Digital Marketing Intern, Sarah Knight.