Career Development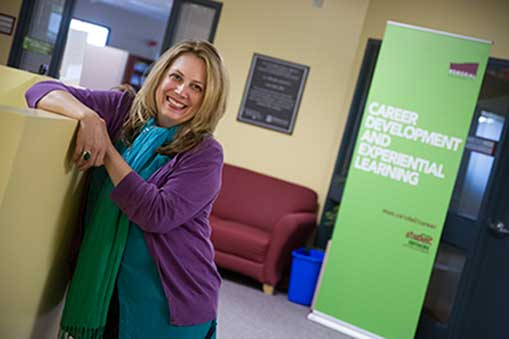 Building on Your Degree
Studying a language offers students incredible opportunities to travel, explore and grow as an individual, as a language student and as a future employee. There are many diverse career pathways for current and future graduates of the Department of Modern Languages, Literatures and Cultures.
French Mobility Benefits in the Domestic and International Job Market
French is one of the most useful second languages you can acquire, and is the second most frequently taught language in the world after English. The Department of Modernn Languages, Literatures and Cultures offers opportunities to study abroad including two programs in Saint-Pierre: the Frecker program and the exchange program with the Lycée d'État, both intended for students completing a first degree. There is also the option of a third year in Nice.
Career Options: Teacher, translator, interpreter, civil servant, diplomatic service worker; a professional in business, communications, media, law, journalism, politics, art aviation or medicine.
German Mobility Benefits in the Job Market
More people speak German as their native language than any other language in Europe. It is not only spoken by the 85 million people living in Germany, but it is also an official language in Austria, Switzerland, Luxembourg, and Liechtenstein. Germany has the 3rd strongest economy and is the #1 export nation in the world. Germans are known as innovators, and knowing German creates business opportunities. Germans are also the biggest spenders of tourist dollars in the world, and, of course, German is the language of culture, of music, of philosophy, and of science. In other words, knowing German can be a tremendous asset in the job market. The Department of Modern Languages, Literatures and Cultures offers a biennial field school in Berlin/Heidelberg and is linked with other overseas programs offered by other universities and programs in Canada.
Many of our German Majors have found careers in education, business, industry, social work, government services, travel, and the arts.
Russian Mobility Benefits in the Job Market
There are a lot of good reasons for studying Russian. Russian is the primary language of the 150 million citizens of the Russian Federation. Russian is the key that opens up one of the most important economic, political, and cultural areas of the world. It opens up the largest country of the world and one of the largest producers of natural gas and oil in the world. Of course, it is also the means to understand one of the major European literatures. Russia has some of the most spectacular cities and cultural sites of the world, as well as some of the most spectacular natural beauty. Finally, Russia is a major player on the global scene. The Department of Modern Languages, Literatures, and Cultures offers a biennial field school in St. Petersburg and has links with overseas programs by other Canadian universities.
Russian Majors have the opportunity to use their language and culture skills in a broad variety of settings. Some go on to work in business as financial and policy analysts for Canadian and Russian companies. Some are working for non-governmental organizations, for publishing houses, or for the print and broadcast media. Others are working in Russian schools, or act as consultants in fields such as marketing, advertising, aerospace, and computer engineering. Some of our graduates are working as teachers in schools, professors in universities, or as employees of the Canadian government.
Spanish Mobility Benefits in the Job Market
If you speak Spanish you can communicate with nearly 500 million people in the world! This means you will have greater job opportunities in the labour market. Spanish is the mother tongue of approximately 350 million people in 21 countries. Students taking language courses use the Multimedia Language Centre to complete assignments and to have additional practice reading, writing and listening in their language of study. There are opportunities available to students eager to go global via Go Abroad.
Career Options: Filmmaker, advertising manager, media specialist, banking correspondent, journalist, importer/exporter, foreign exchange trader, negotiator, court interpreter.
Career Development Resources for Arts Students: