Welcome
In the 21st century, the ability to communicate at the international level is an essential skill that is greatly valued in a lot of professions. By choosing to study languages you will broaden your horizons, enrich your life and improve your future employment opportunities. Our international faculty will help you learn French, German, Russian, Spanish and Italian and foster a global understanding and greater intercultural and interpersonal skills through an exposure to cultures and literatures taught in the department.
Events
Science Building, SN 2025
Jan 22, 2024
News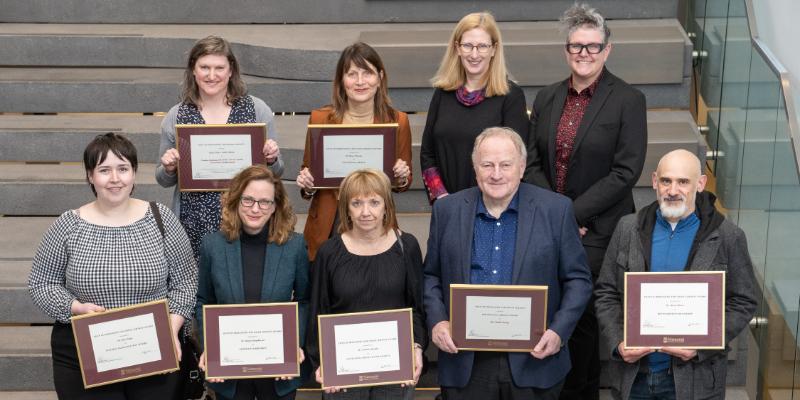 A Fine Crowd 2022 celebrated faculty accolades in previous academic year, including our faculty members earning more than a dozen awards, publishing more than two dozen books, and being awarded more than $6 million in grants and agreements. In addition, we named this year's Dean's Award winners. Read more in the Gazette!
Decolonizing Education: Toward Cognitive and Social Justice
Location: Online: Zoom
Thursday, September 14, 2023 at 9:30 AM - Thursday, September 14, 2023 at 11:00 AM
Dr Marie Battiste is Special Advisor to the Vice President Academic and to Unama'ki College (Cape Breton University) presents a talk on Decolonizing the Academy.
In this talk, Dr Battiste delves into the persisting challenges surrounding educational equity for Indigenous peoples in Canadian universities and beyond. Despite decades of efforts to bridge gaps in curriculum, research, and access, the achievements, knowledge, histories, and perspectives of Indigenous communities often remain overlooked, rejected, marginalized, or underutilized within academic institutions. Furthermore, universities tend to express their commitment to Indigenous inclusion in ways that inadvertently perpetuate Eurocentric and colonial perspectives under the banners of excellence, integration, and modernity.
Dr Battiste offers a transformative approach to postsecondary education, one that has the potential to pave the way for more profound decolonization efforts in research, policy development, and the overall experience of Indigenous students and teachers. By shedding light on these challenges and advocating for a more inclusive and respectful approach, this presentation provides a crucial step toward creating a more equitable educational landscape for Indigenous communities in Canada and beyond.
All are welcome to attend this talk which is happening online via zoom, and you can register by going to the following link: https://lp.constantcontactpages.com/ev/reg/kd75s2b
Url: https://lp.constantcontactpages.com/ev/reg/kd75s2b
Ft url: /languages/decolonizing-education-toward-cognitive-and-social-justice.php
Brown Bag Luncheon with the President
Location: Science Building, SN 2025
Monday, January 22, 2024 at 12:00 PM - Monday, January 22, 2024 at 1:00 PM
Faculty, staff, and students are invited to a brown bag luncheon with Dr. Neil Bose, President and Vice-Chancellor, pro tempore, on Monday, January 22, 2024 at 12:00 p.m. in SN2025.
Url:
Ft url: /languages/brown-bag-luncheon-with-the-president.php