M.A. proposal defense 29/01/2016
Jan 25th, 2016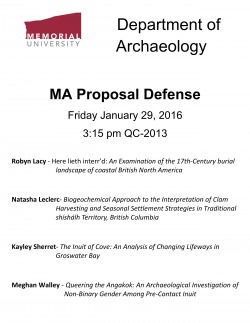 M.A. proposal defense 29/01/2016
Robyn Lacy, Natasha Leclerc, Kayley Sherret and Meghan Walley will be defending their M.A. proposals on Friday 29th January at 3:15 in QC-2013. Their research topics are:
Robyn Lacy: Here lieth interr'd: An Examination of the 17th-Century burial landscape of coastal British North America.
Natasha Leclerc: Biogeochemical Approach to the Interpretation of Clam Harvesting and Seasonal Settlement Strategies in Traditional shíshálh Territory, British Columbia.
Kayley Sherret: The Inuit of Snooks Cove: An Analysis of Changing Lifeways in Groswater Bay.
Meghan Walley: Queering the Angakok: An Archaeological Investigation of Non-Binary Gender Among Pre-Contact Inuit.