A tribute to Gerry Penney
May 29th, 2020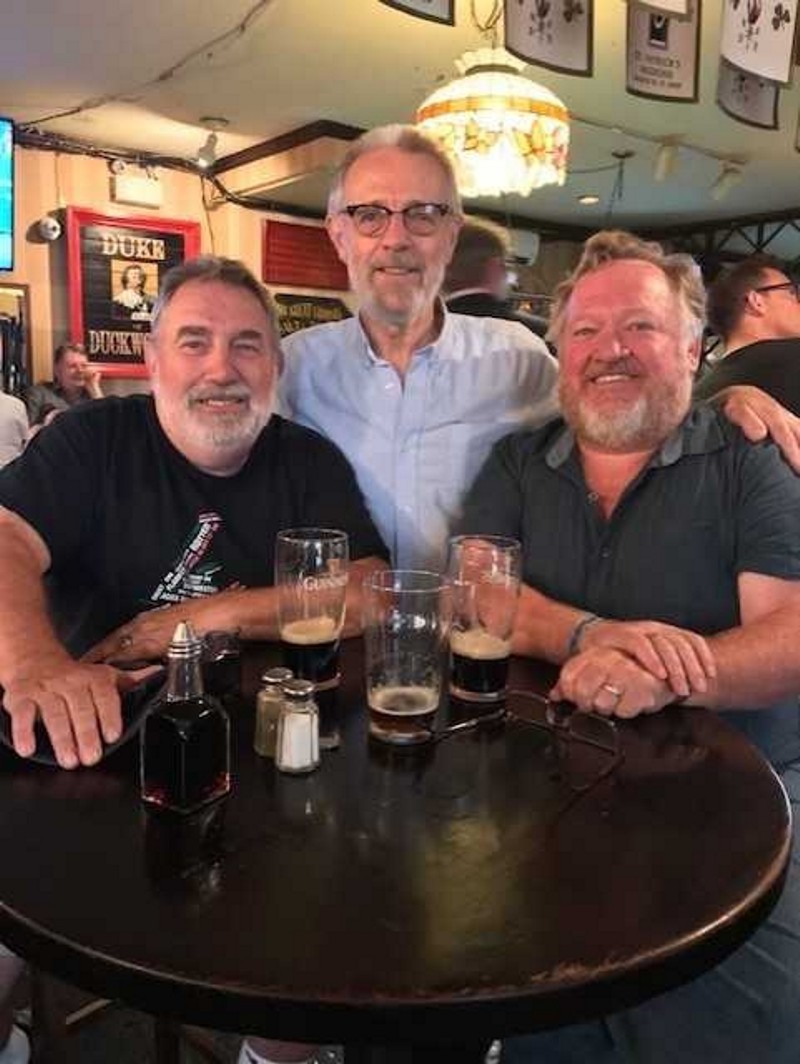 A tribute to Gerry Penney
We were deeply saddened to learn about the loss of Gerry Penney on the 14th of May. Below is a tribute written by Tip Evans, former employee of the department. Many thanks to Tip for writing and sharing with us such personal and hearfelt memories about Gerry and his contributions to archaeology, and the archaeological community, of Newfoundland and Labrador.
Image: A photograph of Gerry Penney (centre) with Tip Evans (left) and Steve Mills (right). (Photo courtesy of Tip Evans).
"My friend Rocko, who most may know as Gerry Penney, passed away on May 14th 2020 after a long battle with cancer. He would not let the disease define him. He worked at his profession as an Archaeologist and Heritage Consultant on his final project "The Big Dig" with determination until his last days. Gerry started his Archaeology journey in June 1975 as a crew member with Dr. James A Tuck and Dr. Robert McGhee, in their continued research in Southern Labrador. Other crewmembers included Marcie Madden, Priscilla Renouf, Steve Davis, Jamie McCormick and me, Tip Evans. It was a three-day road trip from St. John's, seven hours on the Trans-Canada highway; an eight-hour drive on the Northern Peninsula Highway, which was a very dusty, winding, narrow gravel road; followed by, normally, a 2-3-hour ferry from St. Barbe to Blanc Sablon. The ferry was the Northern Coaster, and at the time she was the second oldest ship in the Lloyd's Registry, and because of her rusty hull condition she could not chance a run across the Straits if there was ice. And that year there was ice. In order to reach the Labrador side, our crew was flown to Forteau Pond aboard a 1952 De Havilland Beaver. It was a pretty exciting time, even for the seasoned crewmembers. Adding to the adventure, our accommodations were in the Point Amour Lighthouse: a beautiful 19th century stone lighthouse complete with fog horn, built by the Royal Navy in 1854. One could not help but feel that we were transported back in time. The fieldwork was equally exciting. Marcie, Priscilla and I dug the Iceberg Site at L'Anse au Diable, a late Archaic Intermediate Indian site while Penney, Davis and McCormick with Tuck and McGhee excavated the Cow Path Site at West St. Modeste, an early Archaic camp. We also surveyed the sand dunes all along the southern Straits recovering caches of large bifaces and scattered lithics, and spent a couple days excavating a feature adjacent to - and probably related to – the 7200 year old Point Amour Burial Mound. To finish off the season we took a side trip to visit Bengt Schönbach, Birgitta Wallace and their Parks Canada crew at L'Anse aux Meadows. What a start to a career!
This was the first of several field seasons with Dr. James Tuck that Gerry and I worked together. In 1976 & 77 we worked at Cow Head, a stratified site with late Amerindian, Pre-Inuit (Palaeo Eskimo) and Archaic horizons. In 1978 we were back in Southern Labrador at Red Bay and other locations surveying the Basque whaling remains. Later that summer we surveyed the north side of Trinity Bay and located Frenchmen's Island and the Stock Cove sites.
In the 1970's the Anthropology Department was enjoying a period of growth in size and recognition. It was liberated from the Temporary Buildings and re-housed at Queens College in 1976. Gerry's world of anthropology/archaeology was filled with professors, associate professors, grad students and administration staff all of whom called him a friend. They included Raoul Andersen, Tom Nemec, Louis Chiaramonte, Jean Briggs, Elliott Leyton, Adrian Tanner, Gordon Inglis, John Kennedy, Rex Clarke, and Mrs. Ann Douglas. The Archeology Unit, Gerry's second home, included James Tuck, Robert McGhee, Sonia Jerkic and Stuart Brown with admin support of Valery Andrews, Archaeology technicians David Millar and later, myself. There were dozens of graduate students, too many to recall, who were also his friends.
Everyone will remember Gerry's maniacal laughter, his quick wit, and sense of humor. He was a great person to have a beer with, and for many Fridays after work the table beside the bar at Big Ben's in Churchill Square was filled with laughter and archeology with Jim Tuck, Ralph Pastore, Ken Reynolds, Steve Mills, Rex Clarke, Rocko, myself and occasionally Sunny Jerkic, and Priscilla Renouf, and in later years Peter Ramsden and Lisa Rankin. And always, any number of students and former crew members were present.
Gerry married the love of his life Ellen in 1976. Their wedding was a fun brew of the Archaeology Department, his family and friends from Port Union, Ellen's Family and Gerry's pals from Camera Mun. They raised three children; Steven, Andrea and Simon and were able to enjoy their grandchildren Charles and Anna. We are all saddened for their loss of a wonderful man, husband and father. And we are deeply saddened with our loss of a friend."
The Department of Archaeology would like to express their condolences to the family of Gerry Penney, as well as all of those who had the privilege of counting him as friend.